Usually any Eurovision week is a time of huge excitement, good times and a lack of focus on anything else happening in life.
This year's contest was all that, but with the small extra detail to it – I was going to attend it live. For the first time in my life.
Without going too much into the pre-contest excitement which I've touched upon here, I'm gonna write something about this year's Eurovision week experience, because it's definitely an experience that deserves to be made into a post.
The day before
The final evening before the time of departure happened to also be the evening of semi final 1. I spent the day finalizing all the packing, and wanted to do it before the evening because I had a Eurovision show to watch. In any regular year it was still gonna be a really exciting evening. The fact I had to pack was good because it made those last pre-contest hours a bit shorter, since I had my mind on something else.
And then I watched the show. Won't go too much into the actual show but there was a point during Iceland's entry in which I realized "holy shit I'm gonna be in that same arena in 2 days". All those people in the seats, I was gonna be one of them. The whole idea of that still felt surreal. It still didn't really feel as if it's going to be reality. Doing that never really felt like one of those things that are "doable", or within the means of possibility for me.
I was watching something that was always gonna be really exciting and enjoyable shortly before departing to go attend that same thing. It's just a really positive feeling to have. But also a different one than I'd have in a "usual" Eurovision week.
The show ended but I had a feeling it would be a very hard night to sleep in. I was about to wake up before 4am because the bus towards the starting line1 aka the capital would depart from 5am.
1 The CUE! anime loves to mention starting lines so I had to say it like that.
Wednesday
And then that day came. I put the Sora Yori ending song as my alarm, because oh wow I am about to go on a journey. I slept for probably less than 3 hours. Even that was good considering.
Still had to fit in the final possible things such as drinks for the bus. I spent a lot of time looking at "one bag travel" tips and packed my clothes using the army roll method for maximum efficiency. It still ended up being slightly too much since I had to wear the fragile and important mini bag containing the Eurovision (and bus) tickets in my hand. If I would've tried fitting it in the bag there was a big risk of bending and I wanted to avoid that.
Going towards the bus station of my city. Absolutely no one else on the streets. Except for one car just around the bus station. There was still decent time before the bus would depart but for once I didn't care about the red light and just crossed through it.
My co-traveller was already there. We meet, for the first time in person in 3 years actually and talk until the bus going for the capital arrives. And then we talk through that bus ride as well. Etc.
When we arrived in Zagreb, there was still an hour or so until THE bus departs. Already from the bus window I saw a Flixbus on which it said "TORINO" being parked at the station. It had to be the one surely. We spend the hour walking near the bus station, using the last chance to grab some food as well as do those human needs at the toilet. There was some kind of a playground near which even had a table bikeish type of thing and I thought that was cool for a playground. We did some final "exercise" on it before a lot of sitting would await us .
Some 20ish minutes before the departure time, a short scare. A FlixBus notification arriving which featured the word "unfortunately". Turns out it was just about not getting the seats that we first had assigned, but instead we would get different numbers instead.
The bus drivers were Italian. How cool is that. I scan the tickets, show the ID and we were good to go. We were at the starting line. 🙂
Some people turned up pretty late, at the point when the bus already started going. Been reading some stories, and I thought this would be it for those people, they would have to find a different way. But they were in luck cause the driver did stop and picked them up, but he wasn't impressed with how late they came.
And so this was it. The point of no return. It was actually starting to happen. The destination was freaking Torino. And we started heading towards it. To talk about how exciting it was would quickly become redundant, but oh my was it exciting.
Soon the border checks started. First before Slovenia. A young lady asking us if we're leaving the bus in Trieste since they were looking for someone to go out with in that town (lol). We talked about how we're going all the way till Torino to Eurovision and she kinda couldn't believe it. When asked who we supported at Eurovision, I straight away said Sweden, as you would ofcourse. We all also agreed on Serbia because taste.
Officially abroad. In Slovenia. Oh how I love the feeling of being abroad. My heart thrives with that feeling. It's got to be one of my favorite feelings of them all.
I was in Slovenia previously, but it was mainly as I was crossing it, or went to some stores. This time wasn't different, but I never went through Ljubljana for example. Or at least I don't remember. I was on a trip to Italy in 2015 in which I crossed through Slovenia but I simply don't recall enough things from that trip. I'm pretty sure I'll recall this trip well tho.
Ljubljana was nice. I could catch a few decent pictures, including one where the dragon of the city was (kinda) visible. We stopped there for some time, but were literally closed within the bus, while the drivers went away to wherever they went.
It was always interesting looking from the window and seeing random Slovenian places/landscapes or things making you aware you are in Slovenia. But my heart was also getting more and more excited about the closeness of the first Italian city – Trieste.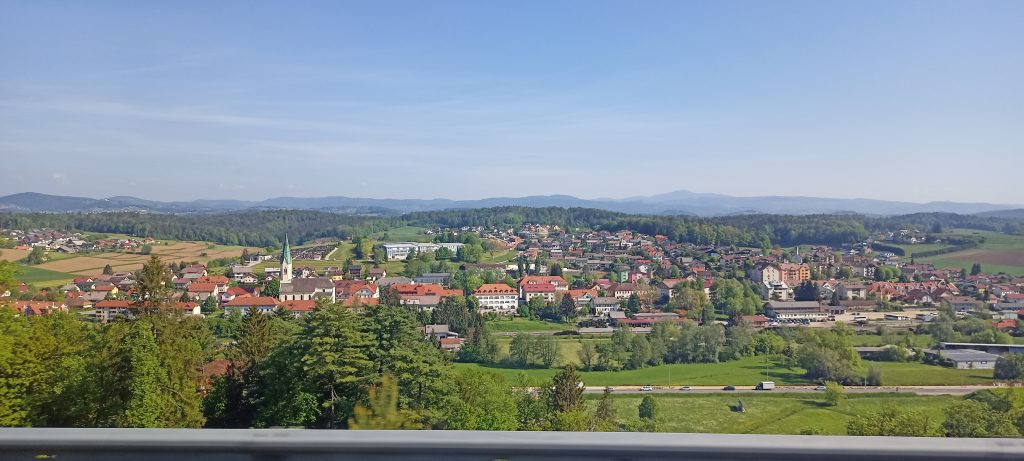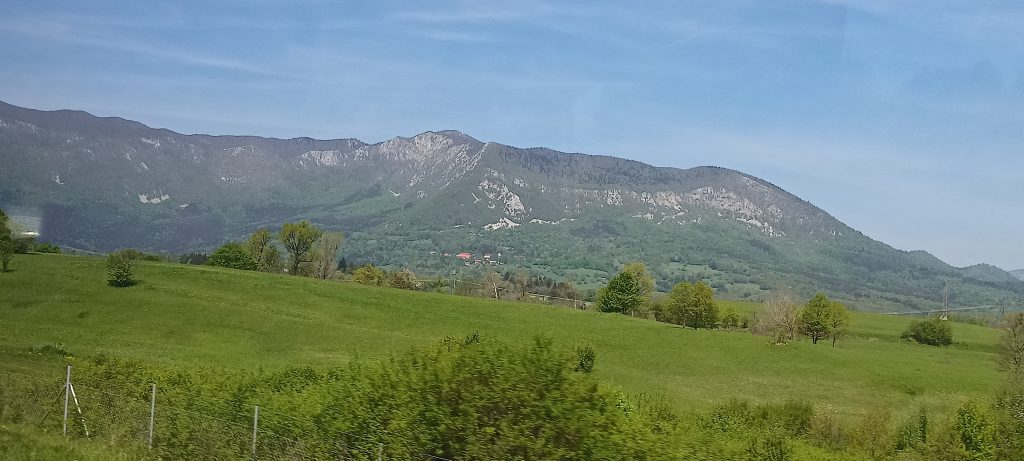 Italy
The border control between Slovenia and Italy was lowkey intimidating. There were people in military uniforms and guns. An unarmed official came and had a chat with the bus drivers, they seemed to be in a good mood. Then followed a quick check of the documents within the bus itself, no need to leave the bus like before entering Slovenia.
The ride continued. And what a joy this was. Italian signs. I was actually in Italy. My heart was really happy. Quickly came Trieste, the first bigger Italian place along the way. There was an amazing view from afar just before we entered the city. The next half an hour or so was just admiring the buildings we were passing, especially once we reached the heart of the Trieste city. What a beautiful city this is.
From then on it was excitingly looking at the glimpses of all of the possible places and buildings I could see from the road. The signs as well, the places they were indicating. At some point there were signs indicating Monza, yes, THE Monza in which F1 races were held. There were Imola signs as well, at least on the way home.
Among the stops of the bus route was the Venice Marco Polo airport. I was able to get a feeling of the mainland part of Venice aka Mestre. The airport was certainly filled with a bunch of cars, and there was a brief scent of the sea once the doors were opened during the stop. According to my co-traveller there was a second in which you could see the "main" part of Venice from the windows, but I wasn't able to catch the view of that second.
It's the Venice flag!!!
Another major city on the route was Milan. To be more accurate, Lampugnano. Once again, couldn't really see any of the "main" parts. But I did catch a few pictures of the area. Before entering there was a lot, and really A LOT of traffic congestion, It didn't surprise me too much, since it was freaking Milano. What a feeling it was, if someone were to call me or ask me (rhetorically, as people do ask sometimes) where I currently was, I was able to reply that I was in Milano.
And the station after that? Torino. The time was nearing, the next stop was gonna be the actual destination.
A sidestory about hotels
Behind us on the bus was a Slovenian pair. From what I gathered, they also went to Eurovision. Due to some kind of miscommunication, their Booking com reservation ended up being cancelled, and they had nowhere to stay for the night. One of the other passengers noticed they were nervous about something, and asked them if they had some problems, which they then explained. The woman was kind enough to help them out, calling the hotel in question and speaking with the hotel in Italian. From what I gathered, she managed to find them a solution for spending the night, while they'd have to find a different place for the night after. Huge props to that woman for helping someone out like that.

I wonder if I avoided a similar situation. I had a Booking pre-reservation ready since April at what seemed like a pretty good hotel, my only concern being the location which was a little bit far from the city center and Eurovision venue. I was ready to stay there however, but a few days before the trip, I received a notification about how the hotel tried processing my credit card, but it was declined. Now in hinsight it was probably because I really did type the information wrong. But it was an uncomfortable moment and situation. I could have waited for them to re-check my information after retyping it, but I also thought that the most secure thing would be if I just found an alternative hotel where I could pay in advance, so I wouldn't have to worry anymore about the "pay at the hotel" option turning out wrong.

This is what I did. I found a different hotel, closer to the center, and I paid in advance. It made me more comfortable and sure that the accomodation part is settled.

It even ended up costing slightly less than the previous hotel would cost, despite the reservation being made so close to the show. For such a late timing, this was a big success. What I didn't realize until after researching the area more, is that the hotel is very near a train station (just like my home), and in a street for which I've kinda seen some bad comments, basically saying to try avoiding it due to some ugly things and possible shady people around. This caused some anxiety about the whole thing, but it was a done reservation so there was no way back anymore.
Back to the main story
Eurovision was relevant here
We entered Torino and we could start seeing Eurovision references/adverts around places. It was all getting that more real. The bus ride was soon over, we left the bus.
That first walk? Truly like entering a different dimension. The smell was different, the feeling of the city and surrounding buildings different than what I'm used to. In a positive way ofcourse. My heart was in awe, admiration of what was around me. But there was barely time to process it.
The first walk in Torino
Semaphores for pedestrians had a third, yellow light, unlike in my country. Soon after leaving we saw the FlixBus drive away and I think the drivers honked and we waved at the bus. It was a bit of a rush towards the hotel for a certain reason.
In the Eurovillage there was a performance of 3 Eurovision acts, including Subwoolfer. My co-traveller is a massive fan of of their entry, so we tried our best to do the hotel check-in on time to see the performances.
At the hotel, everything went perfectly well. A relief. Staying in hotels always felt special, but this time was different. This time it was basically completely on my own. No travelling agency, guardians, teachers, classmates around me. Just me and one more person, everything arranged, found and settled by me.
The hotel looked and felt nice, not even intending the pun since the hotel name is similar to some words I just used. What followed was a quick walk to the Eurovillage. We weren't sure where exactly to enter. After asking an official we were led to what is surely the largest queue I've seen in my life so far.
The picture probably makes it feel shorter than it was
Ofcourse it would be like that, it was an entrance free of charge anyway, for Eurovision artists performing in the city where Eurovision is happening. On the screens there was a number specifying how many people would still be able to enter. With time the number went from 4000 to 2000. Since it came down to 2000 I lowkey kept expecting to see it go down to zero, and that we'd basically have no choice but to leave.
We were deep in the queue while the specified hour for the Eurovision acts to perform has come. I thought we were close enough to the stage and events that I'd be able to hear something while being in the queue. Because I didn't hear anything, I actually genuinely thought they were late, maybe even on purpose in consideration of this huge queue.
Lmao at that because I was very very wrong. By the time we finally entered the Eurovillage, it was well past the timeslot for the Eurovision acts, and we realized how huge the area designated for the Eurovillage is. The stage and massive screens showing the stage were a decent walk away from the entrance we were queueing in front of. We came at the time some artists I didn't know were performing. While that was all fine, you'd wonder why they didn't play Eurovision songs, as a Norwegian fan we chatted to asked. The same fan despite being Norwegian also said Croatia should've qualified last year instead of Norway, which I do not agree with lol.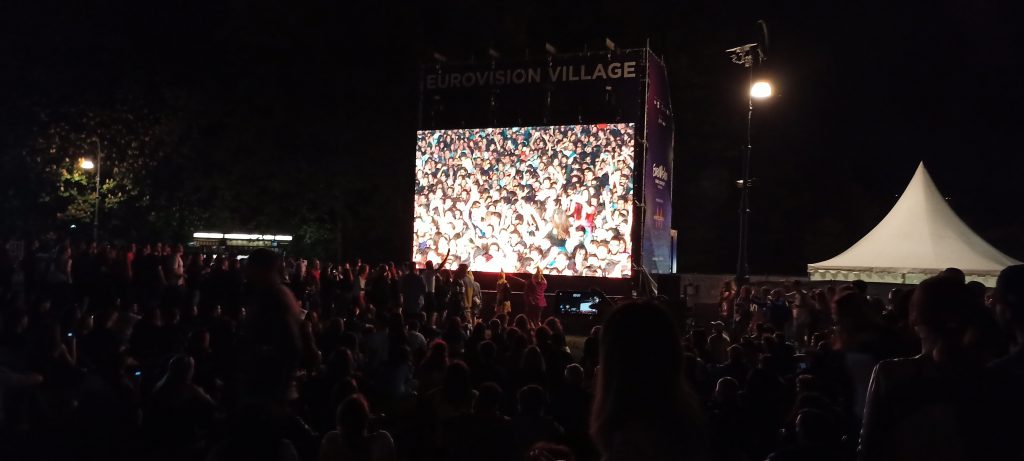 Since we were in the Eurovillage, we wanted to try getting Eurovision merchandise but we were seemingly too late for that since the stand got closed by the time we planned to go to it. One other thing I wanted was to find the stars of specific participants in order to take pictures with them. That part was successful and I ofcourse took pictures with the Cornelia Jakobs star. We also posed with the star of Konstrakta.
We didn't do everything we wanted our first time in the Eurovillage. But now we knew what to expect from it. On the way home, I mean hotel, we bought a gelato. There seemed to be a bit of a miscommunication, as I was given a different flavour than I specified, but it was nonethless a really tasty gelato. I wanted a chocolate and lemon one, what I got was seemingly chocolate and vanilla.
Back in the hotel, the time was nearing for some well needed sleep. I had less than 3 hours of sleep, and I didn't sleep in the bus. The noise from outside didn't help for sleeping though. Closing the windows was a must. I guess this was a consequence of the "being near the train station" thing. We did see a couple of "shady" people in the area, but nothing happened that caused discomfort. And it stayed like that during the other days as well, thankfully.
Conclusion
This was part one of the telling of the story which ended up nearing ten thousand words in total, breaking a long way past my previous records which were under 2.5k words I believe. Just this part one alone is now the new simplymk record breaker in terms of the word count, with over 2.7k words. The full post will be split into four different parts, each focusing on a particular day (or two), with this first one being about Wednesday and the previous day.
Part 2: I went on a journey – Part 2
Part 3: I went on a journey – Part 3
Part 4: I went on a journey – Part 4