Thursday
We slept well. Maybe even too well. We thought about waking up at 8:30 I think, but it was past 9 when I got up.
My co-traveller found this piece of information, giving cause for concern about the need for a negative covid test before entering the venue. I spent my time in the buildup to these days searching for information and everything I'd possibly need to watch out for, but I haven't found that document yet. Although everything I've seen before made me sure that no such thing as a negative test will be needed to enter the venue. I searched again on social media for people asking questions about it, and they were assured it's not needed. My co-traveller was still a bit worried tho. The decision was made to head towards the venue asap to ask for the information about this.
In hinsight, this document was made for the press only. I had such a hunch at the time as well.
We walked towards the venue. A morning walk in Torino. It was a surprisingly simple path, albeit it took some time. But there were basically 2-3 direction changes, including one very, very long walk forwards. We stumbled upon a Dutch woman and a younger woman who was from Spain I believe? We ended up asking them about the covid test, to which they said quite clearly that there's no need for one. The woman provided us with a clear "neeeeej". The final doubts cleared there, since they also attended the family show for semi final 1. They would attend our show, the semi 2 family show as well, in a sector of the arena relatively close to ours as well. Although we wouldn't see each other later on again, it was a cool encounter. They also provided us with a "life hack", which apparantly worked against the evil "no outside drinks allowed" rule in the arena. The hack was to put the bottle cap of whatever drink you'd bring in your pocket, not visible to the people checking, and apparantly they'd allow you to take the drink inside to finish what is left from it. I haven't ended up trying the hack though, so I can't testify myself if it worked or not.
There was still time before we could start entering the arena. There was a Lidl store nearby I believe. But we kinda went the opposite direction on a walk. Some of the streets almost seemed deserted, without any market or place to buy food nearby.
We found a bakery where we got some pizzas "to go", which were baked/warmed in front of us. It was definitely not the best Italy has to offer in terms of food, but It was still probably better than the average pizza from a bakery in my country. And it provided for a special moment. We walked towards a nearby park where we had a seat. Here I was in Torino, Italy, sitting at a nice park, eating a pizza-like thing, drinking a Sprite, all while waiting for the start of the first live Eurovision event I was about to attend. It was a memorable moment and feeling.
Just an average Italian car parked in Italy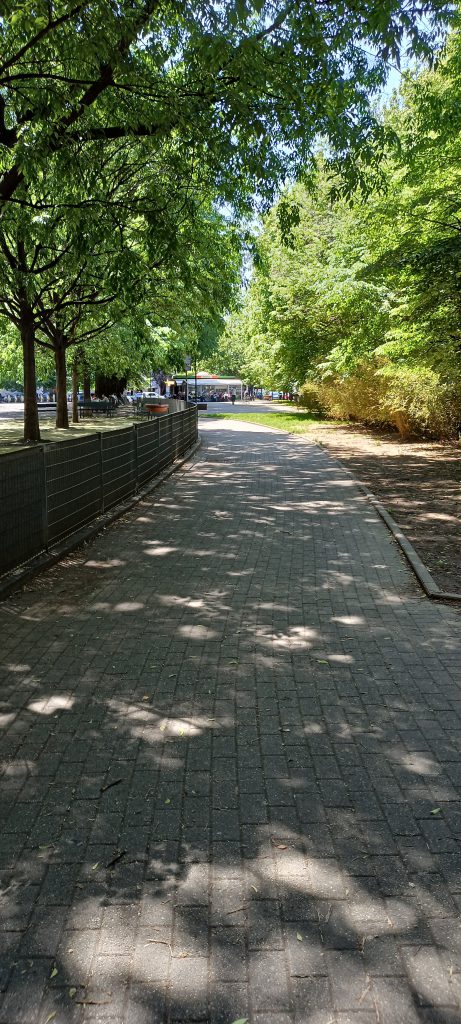 The park
And then soon after we went towards the stage, and into the queues. There were ofcourse queues, but at least this time we absolutely knew we would get in since it required paid tickets and all that. People on the side were warning about the requirement for FFP2 masks, and they even provided them in case you didn't have them. Someone also went ahead and told everyone out loud what to do in order for the queue to move on as quickly as possible. Once we were at the point of the queue in which I was facing towards the arena, to the left I saw a Spanish TV presenter getting ready, and I'm pretty sure they were filming some kind of a segment. Cameras moved towards us as well, and I waved and all that. Really didn't think too much about possibly ending up on Spanish TV during those moments, it just kinda happened and I went with it. Later on I tried searching for it but couldn't find myself in any shorter clip. Maybe they put it in during a longer show or something. To this day I still don't know.
A person handling the ticket checking part of the queue told me to stop, because it was too congested at the item checking part I guess. We waited after that for probably 5 minutes or more. When our tickets got checked, they started to "filter" us by the number of items we had, since we didn't have much we were let go more quickly, into the queue on the right, and were able to head towards the arena.
In front of the arena entrance there were additional queues, this time for people talking pictures in front of the Eurovision logo. We sort of decided it wasn't worth waiting for that, and soon just entered inside. But at first it was a bit hard to figure out exactly into which section we had to go.
Eventually we did find the section. And what could I possibly say about that moment. It was all truly getting real now. It's hard to describe the feeling of entering the Eurovision stage ready for a show to happen. All for the first time. All of this was always a show I watched on the TV. Never from this perspective. It's hard to describe, but one thing is for sure, it definitely wasn't a bad feeling. My heart was full of excitement.
In front of the venue
Different sections
The stage and the "sun" looked impressive in real life, despite all the drama pre-contest. Soon the staff started a "warmup" segment type of thing, basically giving the audience some "noise-making" challenges, asking to hear the fans of each of the semi final participating countries and things like that. They told us about a few acts requesting the audience to use the lights on their smartphones during the performances, which I respected for each of the acts that wanted it. On the TV screens above the seats it was also stated to turn on your lights, during the performance of the acts that requested it. What the staff also said was to make sure to give each of the artists support.
At some point the light work changed, also impressive to see in real life. Basically everything was impressive to me, especially considering I've never really been at such a large-scale event before. Soon after that the show started with Alessandro Cattelan on the LED screens of the stage. One thing about the LED screens was that they were in slightly lower quality than I may have expected it. But it could be down to my imperfect eyes perhaps. This was a funny (maybe) thing about the sun not working 100%, the LED screens showing content were only visible outside the sun area, so everything wasn't always visible. Mind you this is about segments such as Alessandro Cattelan at the start of the semi or postcards. Meanwhile, the TV screens showing how things would be (usually) on the TV had the text in the middle which says it is prohibited to film the screen. Which ofcourse makes for the perfect use of that "this sign can't stop me because I can't read" meme. I did take a bunch of pictures and videos, not just of the arena/performances but a bit of the screen as well.
The first act from the semi final came, which was Finland. The first ever Eurovision act I ever saw performing live at Eurovision. Vibed to it despite not caring too much about it pre-contest. And that goes for some other acts too. Basically every song was a special moment, every song was enjoyment. The atmosphere of the arena was extraordinary, and at the very least I cheered before every single song, even the ones I outright disliked, such as Israel.
Next after Israel was Serbia, and we literally screamed in anticipation during the postcards. The clapping was very real, it was so much fun to experience it in an atmosphere like that.
I won't go through every single act because it would just be me repeating myself about how amazing the atmosphere made it feel and how impressive it was, because yeah it was all of that indeed. But some time around Malta I got very emotional, thought I will start crying. Probably sounds cliche, but I really was almost moved to tears from happiness during these moments. Something about just being there, making it to a show after all these years of following the contest passionately, made me feel things. Who knows, perhaps something about the song contributed to it as well, it's entirely possible things made me feel emotions during songs I didn't think would cause me such emotions. Perhaps that also makes some sense, because it's a song about being what you are, and by being there I did stick to being what I am and following my own wishes and passions even if some may not agree with them at all. And it was the first time I watched it while being surrounded by people who actually share my passion for this thing.
The most anticipated act for me other than Serbia, was ofcourse Sweden. During the countless times I've rewatched/relistened to that song, and thought about attending the contest, I had the thought that just seeing this one song being performed live alone will make attending it "worth it". The thought of seeing it live felt like something I just need to do and really want to do and really should do if I could. And now it was happening.
And it was magical. Also included my terrible singing, an awfully butchered "best I ever had" lyric during that incredible moment amplified with fireworks and lightwork. I guess I just couldn't contain myself, and the wow effect of the fireworks/lightwork moment made me do it loudly. I'm just sorry to the people around who couldn't unhear it. It's all on a video as well, and yeah you could hear me more than Cornelia during that lyric. Oops.
After the great (and impressive, who would've thought?) fun that was Czech Republic, it was the end of the competing songs. Voting started and so did the intervals. Usually this would be the moment in the semi when I'd spend the most time on Twitter, but not on this occasion.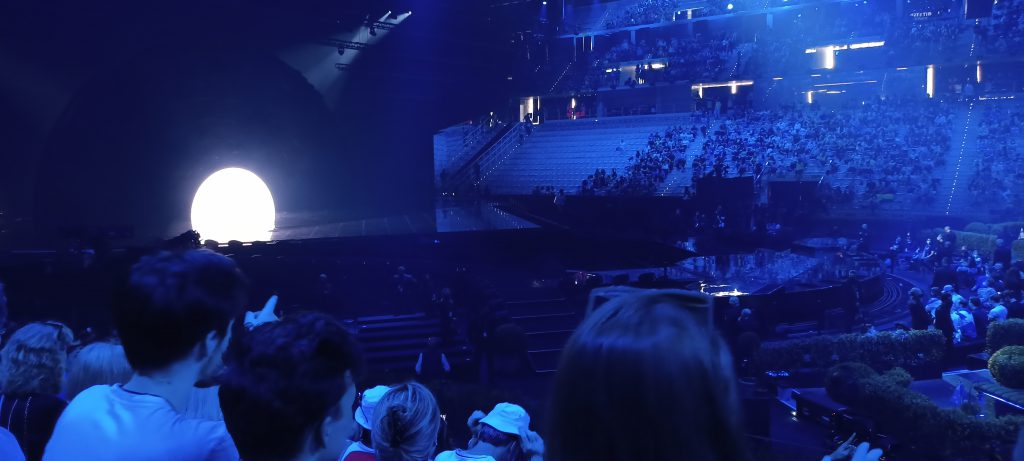 Preparations before San Marino
During the recaps I had a moment in which I decided to take a selfie with the Eurovision stage behind me. Because isn't that a real cool selfie to take? Luckily I forgot my camera app automatically opened in video mode (not the first nor the last time it happened during the trip, I used the app a lot so). I sort of started posing till I heard Serbia came up. And what had to be done was to forget about the picture in that moment, and focus on the clapping instead. It resulted in a really fun piece of video footage.
There was one really exciting interval. We were worried for a bit when we saw one of them got covid, but luckily they still performed, albeit not all 3 of them. It was ofcourse Il Volo, and what a strong moment that was. They sang a bilingual Grande Amore version and most of the singing people did was during the Italian parts.
Before the results there were the segments in which some of the big 5 would arrive. They didn't actually come though, but it was fun seeing the hosts and whoever else it was that came on the stage, mimic the replies to the questions. The closest thing we got to Sam Ryder were the fans from the UK sitting on my right side.
And then the fake results. Nonethless still exciting with passionate reactions. Most importantly, both Sweden and Serbia qualified.
It was the end. I thought and said "do I really have to leave? I'd just like to stay here for more". I sang "baby bye bye, wish you the best" to Pala Alpitour when being back in front of it. Just before that, my co-traveller for a second probably thought that the actual Subwoolfer were in the huge hallway of the arena. They weren't, it was some fans dressed as them. But it was the next best thing to the actual Subwoolfer so I took pictures of them with my co-traveller. And so did other people as well. Now I know that you could end up with people queing to take pictures with you if you arrive to the arena in an interesting enough outfit.
Guess all the good things come to an end. We had no choice but to leave. The exciting things didn't stop there tho. There wasn't a huge amount of time to spend. On the way back to the hotel we stopped at a store and bought something quick to eat before heading back to the eurovillage. It was at the Italian version of Spar, a store I always thought was good. A thing I found which I thought was cool was a granulated Lipton ice tea, not something you could get here. So I bought one to bring back home. I also got a pack of four mini Schweppes Limone, another thing you couldn't get here. Well, the small pack anyways. And the bottle(s) were different. But most likely it was the same thing as the bitter lemon Schweppes you could find here. But I was excited about a Schweppes from Italy because this one was just called limone and the bottle design was different from the bitter lemon from here. Maybe the drink itself really was a bit different afterall? All I know is that I really enjoyed it. And the version of events I like better is the one in which it's a different drink than what I can usually get.
We headed back to the eurovillage as early as possible. We knew it would be an insane queue, and it was definitely about to be even bigger this time because there would be a semi final screening. We were in the unusual, "privileged" position of knowing what is about to come and how most of the things will look, before the live show would air. For us this was almost a re-run you could say. And OK, I know things are leaked today and people could see the jury show clips exactly as they look on TV the day before the live show. But the clips aren't full clips and I don't think the absolute entirety of the show gets leaked.
What we did first after entering the eurovillage was finally buying some merchandise. Only thing is that the colors I personally wanted were sold out or maybe weren't even sold in the first place. I was aiming for an orange hoodie/shirt since I saw them around and thought they were really cool, or a purple shirt, none of which I was able to get. Instead I got a dark blue hoodie, but I'll take it. Oh and a Eurovision lanyard, sunglasses and the all important tote bag(s). Had all of the things I bought in the newly bought bag and wore that around till the end of the day.
And so we headed towards the main stage. Brividi was being played, had to sing along. Also they played LRDL's brilliant Be My Baby cover.
We were there a bit after 8pm. The pre-show didn't even start yet. Quickly I realized that connecting to the internet was kinda impossible for whatever reason. Now I realized it could had been simply because of how crowded it was. Oh well, it wasn't a semi in which I planned to use Twitter anyway.
The pre-show started, things were heating up. I used to wonder in which language would the eurovillage screenings be in. The answer seemed to be the obvious one, the language of the host country. It was a Rai screening. An interesting thing that happened is that in an ad-break, Tananai and his song Sesso Occasionale came up. Turns out his "ci vediamo all'Eurovision" technically did come true to an extent, because people did see him during Eurovision.
By the way, there were two big screens, one on the left, the other on the right. In the middle the stage where people would perform, but not this time. I kept switching between the screens for the best view at a given moment, since it was constantly changing.
The show started. It was a unique feeling seeing it all again from a different angle. During Cattelan's performance at the start, there was someone dressed in green, and I was curious to see how it would look on the TV. Another thing for example was related to Romania. On the screens in the arena, there were parts with the "hola mi bebebe" text being the only thing on the screen. I assumed it would look like that during the show as well, which I thought was an unusual choice, but it turns out my thoughts were wrong. The screens didn't show the TV version 100% of the time, as we already knew with the "turn on your lights" messages.
Same enjoyment, just a different perspective. The closest comparison I could make to this was the football World Cup final screening in my own town back in 2018. Only that this time it was a Eurovision, and a lot more people. Incidentally, back then I talked to a group of Italians so the connection is also Italy related.
Mandatory clapping on Serbia. Lots of love for Achille Lauro. A temporary dead pixel on the screen during Belgium making for an awkward short period till it seemed to fix itself. Thankfully in time for Cornelia and Sweden. Kinda performed my usual "choreography" during some parts. Some people near kinda seemed to laugh, I don't want to make conclusions that it was because of me, maybe It wasn't. I didn't want anything to bring me down anyway, so I just kept going. It was probably the closest to a "bad" moment during the entire few days.
This time the results were for real. The most important thing was to see Sweden and Serbia go through. Ofcourse screamed hard when Sweden was announced. As the countries went down I started figuring out who is most likely to go through. It became clear that all of Ireland, San Marino and Serbia won't make it. I wished for both of the former to go through, I really did, but when it was just one country left, anything else other than Serbia being announced would've been a dissapointment.
It wasn't an "obvious" qualifier by any means. For a minute, I really started thinking the "general public" just didn't get it, no matter how much people at the venue and the eurovillage liked it. I mean, if the qualifiers were based on how much the live audience loved it, San Marino would've been an easy qualifier for example.
We screamed a lot when it was indeed Serbia that was announced. All that tension made for a big release of happy emotions. People even turned around, I guess we were really loud.
Then more loud things followed. On the way back from the main eurovillage stage, there were a few girls singing Hold Me Closer passionately. I walked nearby and casually joined in with my singing. We then just walked through the Parco del Valentino singing our hearts out till the last line. A memorable moment I'll cherish. It was then that I had this "I love Eurovision, and I love being at Eurovision" feeling. A huge release of emotions after the results followed by a moment shared between random people who happen to love the same song.
Speaking of moments between people loving the same songs… In the first part of the eurovillage there was a stand where they showed performances from RaiPlay. On Wednesday I thought it was for tiktok or something, where you'd go there and just do your thing… Or something. In any case they played performances. Don't even know who was actually choosing which songs there would be.
We came there and it sort of just turned into what we called an afterparty. Albania (twice), Romania, Ukraine, Austria, Ireland, San Marino, Norway, Moldova, Czech Republic all being played at some point. People having fun dancing, vibing, performing, even imitating (especially cool during Ukraine) the performances. Another "I love being at Eurovision" moment.
When the mysterious song selecting person was choosing songs, a lot of people rooted loudly for Spain to be put on. I secretly hoped that won't happen and it didn't. Then at midnight it simply got turned off, which was a bit of a shame because it would've been fun to stay longer and who knows for how long it would've been.
My voice felt the effects of all the loudness. I just felt really happy to be there. It was a really good day. Feels like an understatement. Words are hard to give it justice.
On the way back we got a gelato at the same place as the day before. This time I got my desired lemon flavour. And chocolate again.
It was a day full of soon to be treasured memories. More would come the next day.
Conclusion
This was part two of the telling of the story which ended up nearing ten thousand words in total, breaking a long way past my previous record which was under 2.5k words I believe. Just this part two alone is now the new simplymk record breaker in terms of the word count, with over 3.6k words. The full post will be split into four different parts, each focusing on a particular day (or two), with this second one being about Thursday.
Part 1: I went on a journey – Part 1
Part 3: I went on a journey – Part 3
Part 4: I went on a journey – Part 4