Friday
Didn't sleep perfectly. Woke up earlyish, at like 5am. Felt something of a nausea, not ideal. Think I managed to sleep a bit more afterwards.
The idea was to go to Turin's Automobile Museum. And I wanted to buy tickets for that, since I assumed there would be long queues and I didn't want to wait. We did that after some trial and error with the website, and we were ready to get there by11:30.
I was spontaneously about to try the Turin Metro, and with that a metro system in general for the first time in my life. I have nothing but good words for the concept. It's convenient, quick, goes every few minutes, it's eco friendly. I wish every city had one.
The metro station
The museum turned out to be a lot less crowded than I expected. Its location by the way is amazing, near some beautiful scenery next to the Po river.
Right across the museum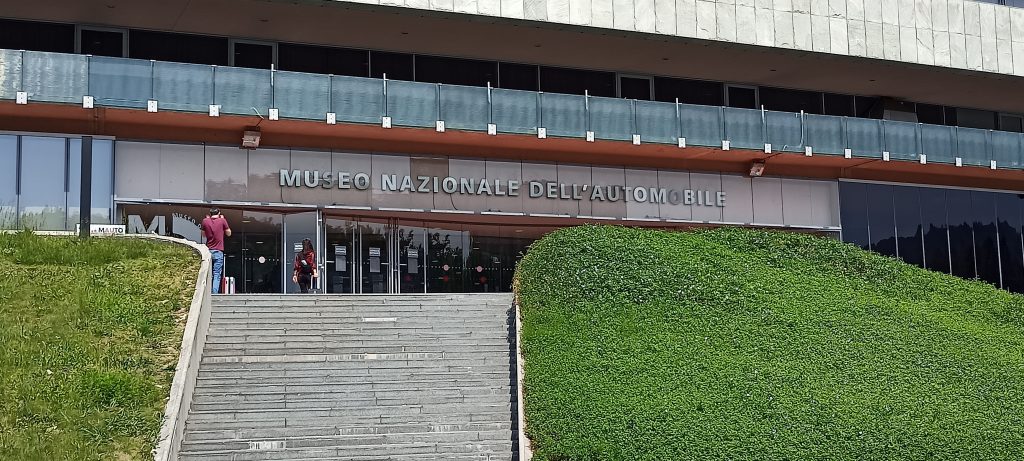 In front of the museum
The stay in the museum was some three hours. There were truly a lot of things to see, presented in different ways. There was effort put into presenting things in an interesting way. Things like projections with clips related to the surroundings or a projection of a guy working on an old car and then explaining things, with a feel as if I went back in time to a Sunday a few decades ago and I arrived at a car workshop. There was also a section where you could go through a bunch of clips of old car adverts. There were ofcourse old cars. A lot of old cars.
Cool things done with small car models. Composed scenery such as Las Vegas and Route 66 with small models and figures, only accessible from a small magnifier. Or an entire Fiat 500 made up of just mini Fiat 500 models. Or a crash tested Fiat 500. Or what about a green Fiat 500? Or a Fiat 500 with the Mole Antonelliana on it.
We seemed to be inside just as a group of kids had a guided tour. And I saw them just as I was heading for one section of the museum I was particularly excited for, one which counts as an additional dream coming true on this trip which was all about dreams coming true. It sunk in that I'm from a very different country when I realized kids were able to see things like these on a random museum outing with the class, while for me it was basically one huge goal and thing I've been wanting to experience for a long time.
The section was the Formula 1 section. I was able to see a Formula 1 car for the first time in my life, in close.
It was towards the final parts of the museum, so it had a feeling of a buildup to it. It was an entire section about Formula 1, including things such as trophies, overalls, helmets. And ofcourse, the cars, one of them being the Ferrari driven by Felipe Massa in 2008, my favorite former F1 driver, in one of my favorite ever seasons since its when he fought for the championship. A moment of real joy. Couldn't resist but to also touch it a bit, just to try what it's like to touch a freaking F1 car. This picture of the very car is now my lockscreen because it fits so well for the purpose.
I thought "could anything coming up possibly beat what I just saw? Probably not". There were still cool things to come, including an Alpine car (not the F1 car but still very cool), but the F1 section was indeed the highlight. After all that there was also a shop, predictably not a cheap one, but I still grabbed a mini 2019 F1 Ferrari of Charles Leclerc because I never saw that around here and I love such mini F1 cars.
After I briefly lost my co-traveller and we reunited, it was time to move on. But the part of the day kinda worked against us.
We were starving, in need of something to eat. But it was almost 3pm, and from 3pm till after 6 or 7pm, good luck finding an Italian restaurant in Italy which is working, and is recommendable. This is ofcourse, thanks to the riposo, which is a good concept by the way. It simply worked out against us on this occasion.
There was a bunch of walking. From going to the museum, to then walking all around the museum and now walking around town, it was truly a bunch of walking. My legs were tired, I was starving. We almost chose some restaurants which were open but were described as "tourist traps", and I really didn't want something like that to be my first Italian restaurant experience. So we kept going.
Then, the literal definition of "godsend".
Some people were giving away free sandwiches. They were dressed in service clothes. It seemed legitimate. I believe it was legitimate. It tasted legitimate. It didn't make us sick afterwards so there didn't seem to be any ill intent. It was just a genuine moment of luck, and kindness coming up in a moment when we exactly needed it. And it was a pretty damn tasty sandwich. Not just because I was starving, it genuinely tasted amazing, the prosciutto(?) was brilliant. Maybe that was the most appreciated (and enjoyable) sandwich I ever had.
After that we sat at a nice park with a fountain. A bit before that we also stopped at an (expensive) store to get something more to eat. At the park, some children were on what I believe was a birthday party. We were just there, having a well needed sit, eating tuna. I could feel my battery being recharged. It wasn't the Italian restaurant lunch, and this is one of my biggest regrets of the whole few days – the lack of food experiences, basically a complete flop in this department. Next time I want to do much better in this aspect. I feel like it's a debt I owe to repay myself.
There wasn't too much time left. The returning bus was about to come in around 3 hours. Another thing was that my phone's battery was getting dangerously low, and this wasn't ideal since I was the one showing the FlixBus card which was on my phone. It would ideally need to survive till the bus entrance after which I could charge it in a bus which hopefully provides the option to charge.
We reached the Mole Antonelliana, which would probably be one of the most famous buildings of the city. We were hoping we could go to the top of it for the special view, but were told at the entrance that it's sold out. But at least I got this nice picture of it which I'm using now as the background for my apps.
One of the aspects of the city that I really enjoyed were the Torets, cool looking water fountains with a bull head, found all around Turin. We filled our water bottles there multiple times. Turns out a tradition is taking them by their horns, but I didn't know about that at the time, so I sadly didn't do it.
Picture actually taken on the Thursday but who cares
One thing we didn't do was get any souvenirs. Around the Mole there was a souvenir shop where we got some stuff. In hinsight I wish I bought more things, but what I did get was good. I got a mini Mole to go with my mini Eifel tower that I already had. Also got a mini Bicerin liqueor among other things. Which I didn't even think was alcoholic till it was pointed out by my mother when I got back home.
Although I got some gianduja, we didn't enter any chocolate shops yet, and wanted to change that. Turns out one chocolate store was very near.
Quickly the visit to the store turned into a chocolate tasting session. The owner of the store gave explanations on the various types of chocolates they had, and gave us the chance to try basically any of the chocolates we wanted. For free. Except for the spreads, because that would've been a bit harder to share than chocolate bars. We tried 100% cocoa chocolates, Belgian chocolates, almond chocolates, chilli chocolates… The selection they had is from various parts of the world. Some of them were better without chewing, for some others chewing was fine. I was there for some Piedmont/Turin chocolate though which we tried as well. It was my favorite of the ones I tried, and it's what I was looking for anyway so I bought some, but I'm sure I wouldn't regret getting any of the other types of well. It was a lovely time spent in that shop, wasn't expecting to be getting a mini taste tour of worldwide chocolate. They even happen to have free shipping for orders, very quick shipping as well according to what we were shown. All in all, a great discovery, considering there isn't actually too much information on this store. I guess you could call it a hidden gem?
We still had time for a few last things to do. At a picture stand by a Eurovision related sponsor, we took some pictures. Then we experienced another thing you couldn't do in Croatia: Starbucks. I got a strawberry drink and it was fine. The Starbucks also provided a well needed place to charge my phone, so I didn't have to worry about my battery dying before showing the FlixBus ticket anymore.
There wasn't too much time left. Seriously, there wasn't. In fact, time has basically run out. The bus was about to leave at 20:30. The last picture I took at Starbucks was at 19:50, while according to Google, the walk to the FlixBus station was 28 minutes long. And FlixBus usually asks for people to be at least 15 minutes early at the station.
It had to be a quick walk. Running was required. It was a day spent entirely on foot, and I for sure would've liked a take it easy type of walk to be the last one.
This was basically my Sora Yori episode 2 running scene moment. Running in Torino to not be late for a bus home. It was stupid but I kinda smiled because I remembered it was kinda like that scene.
We did make it on time. Did much better than those people the first FlixBus driver had to make an extra stop for.
And so this was it. Baby bye bye, wish you the best, but most of all I wish that I could stay for longer and all that. Fittingly, my co-traveller requested for me to play Hold Me Closer and we did so, listening to the same song at the same time on two different headphones because conveniently it was what his headphones allowed us to do.
We started departing with Hold Me Closer playing. Situation fitting perfectly. For a while we kept listening to what I put on Spotify. One of the songs was also That's Rich. When passing through Milano, I've put on two songs that I knew were mentioning Milano. It had to be done. I had to play Mahmood's Milano Good Vibes and Rkomi & Elodie's La Coda Del Diavolo while going through Milano. I also introduced him to some Dardust produced songs, some Blanco, Michele Bravi and others.
The driver of this FlixBus was a woman. At one spot, she got annoyed with someone, who from what I could gather tried to enter without a ticket. There isn't too much more to say on that first part of the FlixBus ride. Things have gotten dark, sceneries less visible. I still looked outside the windows ofcourse. Catching glimpses of places I haven't seen before, even in the darkness, still made me happy. I could hear foreign languages behind me the entire time. I think it was French. People started sleeping. I wasn't one of them. Soon I was starting to think about what we will do at the upcoming stop in Bologna, which was about to be around an hour long, at 2am.
Conclusion
This was part three of the telling of the story which ended up nearing ten thousand words in total, breaking a long way past my previous record which was under 2.5k words I believe. Just the part two alone is now the new simplymk record breaker in terms of the word count, with over 3.6k words. The full post will be split into four different parts, each focusing on a particular day (or two), with this third one being about Friday.
Part 1: I went on a journey – Part 1
Part 2: I went on a journey – Part 2
Part 4: I went on a journey – Part 4