Saturday
2am came and the answer was the obvious – walk around. We just randomly walked around for around an hour, at 2am in Bologna. It felt peaceful, few people still around sometimes. Basically nothing was working other than probably the hotels. And some machines. We saw a self-serving gas station, another cool thing I haven't really seen in my country.
A lot of the pictures I took ended up being blurry. I guess I don't have the greatest luck with pictures in Bologna.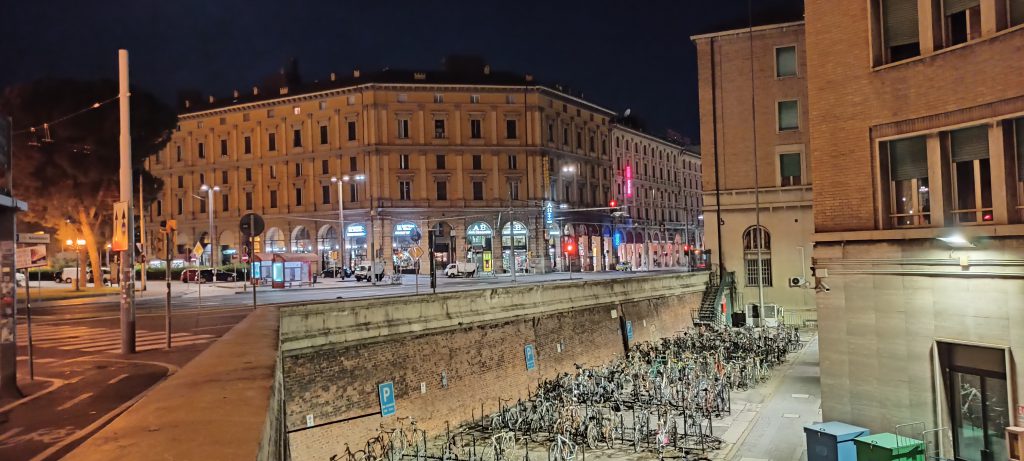 A rare not too blurry photo from Bologna
Close to the Bus station there was a machine where you could take photos for documents. We ended up using the machine because why wouldn't you want to take document photos at 2am in Bologna? Behind the photos was a memorable occasion, and it would be cool to be able to use those photos somewhere. For my co-traveller they ended up fine. But in my case, something went very wrong with 2 of the photos, so instead of 4, I got 2 proper ones. But I'm planning on using one of them for a card soon.
It was time to use the chance to use a toilet, and by the time we were done, the FlixBus going towards Zagabria had arrived. This time the driver was from the Balkans, and it was the first time we used Croatian with someone other than each other since the middle of the first bus trip. It provided a sense of familiarity.
The minutes in the bus before the departure sucked because there didn't seem to be a free seat left for me, and for a moment I thought I'd seriously have to stand all the way till the next station. Thankfully I did end up sitting. Ofcourse, FlixBus guarantees sitting anyway.
During this second FlixBus round, I tried to get some sleep. Didn't work out too much, what I got was maybe some 20-30 minutes of half-sleep. Better than nothing I guess?
Soon the dawn has arrived. At some point in Slovenia we went outside for a break. A legitimate break, not just one where only the bus driver was gone. It was actually kinda cold in short sleeves, a change from the temperatures we experienced the previous few days. I expected rain from the way the clouds were forming. Didn't really happen though.
Slovenia scenery
In the bus, one of the passengers started talking about how Konstrakta has a good chance at a victory, and I thought how nice it would be if that happened, because Eurovision would be held even closer to my country. I personally in that moment didn't think it would happen, even though I would've loved that to happen. Maybe if I saw how many views she had at that point on her semi final performance, I would've been more optimistic at that particular moment. I only saw that later on in the hours before watching the grand final at home.
Once we passed the border control between Slovenia and Croatia, I was officially back in my own country. All I could do at that point was send out a sad tweet. I was legitimately mad to be back in my country lmao. There was a sense of annoyance within me. But the journey wasn't over just yet. I could cling on to a few more hours of being away from the (completely) familiar.
Soon we were back in Zagreb. We went towards the train station to buy tickets for our hometown. We went to a nearby store which apparently had good prices. It was all walking.
But it's ok, we have the metro. Sad feeling because that ofcourse, isn't the case in Croatia. We had a breakfast at McDonald's, and then went to check out a certain bookstore where I found manga in the past. Only for it to turn into dissapointment because I couldn't find a single volume of anything this time. 3 years ago they definitely had a manga selection. What happened since then I'm not sure. What makes it even more strange is the fact they still have manga on their website.
There was some live music on the streets where we were walking. I also realized this was actually the first time I walked in the capital of the country since the earthquakes in 2020 which damaged the city. But I didn't really notice anything where you could tell there were earthquakes.
The train ride back to our city started. It would feature a switch to a bus and then train again at some point. The bus ride was far from perfect since it was really hot and crowded.
Then the final train ride. The closer we got, the more the emotions started to hit, and at some point all I could do was look to the right side because my eyes were getting teary. I started openly crying after the train arrived and I was giving my co-traveller the pictures and his ticket back. We parted ways, I cried on the way back home. My house is only some 5 minutes away from the train station, but this time I went on some streets where it would take longer. My mother was there in the house waiting for me. I was an emotional mess and it showed. She left after some time, it wasn't too long till I was left on my own, and to basically cry on my own. Briefly I saw my brother as well, he seemed to be in a rush so we didn't talk too much. All I could do was say how it was an unforgettable experience.
I truly hate endings of the things that I enjoy. And what also contributed to the emotions was the thought of how this trip was in a way the first big move towards independence, being almost 900km away with just one other person, and all the things such as accomodation being handled and planned by me. It was a feeling of liberation. And I'm left eager to experience it once again.
But the Eurovision week still wasn't over, it was just a few hours till the start of the grand final.
I took a nap a couple of hours before the start of the grand final. Those first few seconds upon waking up felt unusual. My brain needed a few seconds to process I'm back home. It really has come to an end. The hour or so of sleep almost felt like an extension of the few previous days that were actually like some kind of a dream, but after waking up from the nap, I was back to "ground level", and the usual life.
I thought about how it must've been like to watch the grand final in the Eurovillage. Or the actual arena. I wanted to be in either of those places. I watched on my PC with the mini Bicerin liqueor and the Eurovision lanyard on my neck.
Portugal was one of the first performances. And the tears came out so easily. It was already one of my top 4 pre-contest, but this time it hit really close to home. The feeling truly was saudade.
Won't go too much into the show though. Cornelia gave probably the best performance of Hold Me Closer since the Melfest semi final and it was really special. The mandatory Serbia clapping continued even if it was just me (and my grandpa) in the house. As always, some things about the results sucked, some things were surprising. I just regretted not taking a video of the vibing to the eventual winner Stefania in the Eurovillage after the semi final, because that was one really cool and fun moment.
The aftermath
That travelling urge has been multiplied several dozens of times thanks to this experience. As a result, I spent countless hours looking at a bunch of possible destinations and different ways I could get to them. FlixBus is probably one of my most used apps recently lmao. Almost every single day I checked out if there is a FlixBus connection somewhere. I have been daydreaming/thinking of trip ideas, things to see in so many different cities and countries, not just in Europe but the world in general. 
What seemed intimidating and unknown (FlixBus), feels much less of that now. Now I'm just thinking of all these possible places I could possibly go to with a bus, and how cool it would feel during the few hour stops in cities between connections on the longer trips. Similarly, hotel reservations. For every city I'd look more closely into, I'm also checking out the hotels to get an idea of the prices.
In general any travelling now feels much less of a big deal as it used to. And I'm already making internal plans for a return to Italy, in September. All this looking at Google Maps and reading on different cities in different countries is helping me brush up my geography. The only thing it doesn't help for is the focus and procrastinating it often causes.
Even for more long term things, such as possibly Erasmus, there is the energy inside of me telling me to go for it. And yet, I am not fearless yet. There are still a lot of anxieties within me, more than I'd like to admit to myself. But now I know even more that international experiences bring my heart a lot of happiness, and I would like to have as much of them as possible.
Conclusion
This was part four of the telling of the story which ended up nearing ten thousand words in total, breaking a long way past my previous record which was under 2.5k words I believe. Just the part two alone is now the new simplymk record breaker in terms of the word count, with over 3.6k words. The full post has been split into four different parts, each focusing on a particular day (or two), with this fourth and final one being about Saturday and the aftermath of the journey.
Part 1: I went on a journey – Part 1
Part 2: I went on a journey – Part 2
Part 3: I went on a journey – Part 3