Fruits Basket is a 1998 manga which has already been adapted into an anime series in 2001.
I haven't seen the 2001 version, nor have I read the manga, so I'm going into the 2019 anime completely blind.
The story
16-year old Tooru Honda has already had her fair share of tragedy, losing both of her parents. Her grandfather took her in, but due to renovations in his house she is currently left without a place to stay in.
She ends up sleeping in a tent, on the private land of the Soumas. When Souma Yuki and Souma Shigure discover her, they offer to take her in.
As Tooru is overwhelmed with the offer, Kyou Souma, an orange-haired boy breaks into the house.
He gets ready to get violent with Yuki, until Tooru accidentally ends up hugging him. Which made him turn into a cat.
Then a piece of wood falls onto Tooru, making her lose her balance and turning Yuki and Shigure into a rat and dog respectively.
My thoughts
That was more or less the summary of episode 1. I'm writing this after watching episode 3, and at this point I think I have a more clear understanding of what this anime is going to be about.
But before I get into all of that, there is one thing I have to note.
In episode 3, Yuki and Tooru have spent a whole night outside during a typhoon. I was sure this will mean both of them will get sick, and yet to my surprise, Tooru was completely fine the next morning, eagerly making rice balls. There weren't any signs of sickness on Yuki either.
Subverting the usual anime tropes,  huh? Usually anime characters catch colds in the tiniest bit of rain, but now in a case when catching a cold would actually be understandable, it didn't happen.
Anyway, back to what I started. Tooru Honda is the only person outside of the Soumas that knows their secret. She brings a positive change into their lives, and she has influenced Yuki and Kyou to get better at interacting with people. We'll follow their growth and somehow I also think they'll get familiar with the concept of love along the way. But that will come a little bit later I assume.
I've seen Fruits Basket mentioned among "reverse harems". If that's what this anime is, it would be my first ever reverse harem. But for that to be the case, at least one more person would have to "join in the mix", right? We'll see if it will happen, I guess.
Ofcourse, the zodiac aspect is an interesting twist in this anime. I think that the more the Soumas are around people, the more inevitable it becomes that their secret will get revealed at some point.
I don't yet fully understand the Yuki vs. Kyou situation tho. If Kyou beats Yuki, the cat will become a zodiac sign? But will that mean Yuki will "lose" his zodiac status or will everything stay the same for him? 
Tooru Honda is such a lovely character. Her design is very cute, and she is a bit of a klutz.
Her energy and determination are admirable – especially considering her tragic past. 
I just hope she has some self-defence tricks up her sleeve cause I have a feeling the Yuki fan-club is not gonna like her a lot…
The art style of the anime is nice. Again, I haven't seen the 2001 version but I do know that the art style from that version is very distinctive. I'm not sure it was for my taste tho.
I'm already feeling a strange amount of feels from the soundtrack. The ending song in particular has grabbed my attention.
All in all, I'm glad I picked up Fruits Basket and its one of the anime I'm looking forward to the most each week.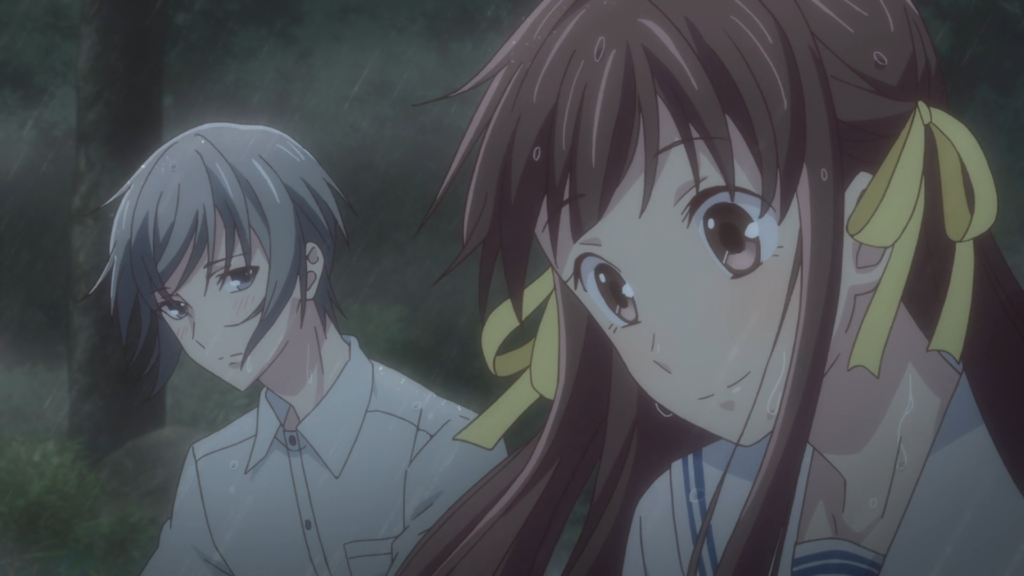 What about you? Feel free to leave your thoughts on Fruits Basket in the comments below 😉