Reboot InfoGamer, held in Zagreb, the capital of Croatia, is "one of the biggest games shows in the world", according to their official website.
And my university was kind enough to take care of the transport and ticket costs for our one day visit.
I was looking forward to this day a lot because I've seen Bandai Namco would be featured.
This gave me some hope that they will present Jump Force.
It turns out my hopes were actually fulfilled.
Trying out Jump Force
Since it was announced that the Hunter x Hunter characters Gon and Hisoka will feature in this game, I knew I wanted to buy it.
And when they announced Kurapika will also be one of the playable characters, it's fair to say my hype levels were quite high.
Seeing I could actually try this game out made me so happy.
Unfortunately, the version I could play didn't involve Kurapika, but I guess you can't have everything at once.
Compared to a game like Blazblue, Jump Force felt simpler. As always with fighting games, I didn't know exactly which button did what, but I don't feel it would take too long to get the hang of it.
I enjoyed playing Hisoka the most. He felt easier to handle for a first-time player and was simply very fun to play.
My anticipation for playing this game was worth it. It was so fun, i came back to it two more times.
Worth buying. Especially when you consider Kurapika will be there too, as well as Killua.
More fighting games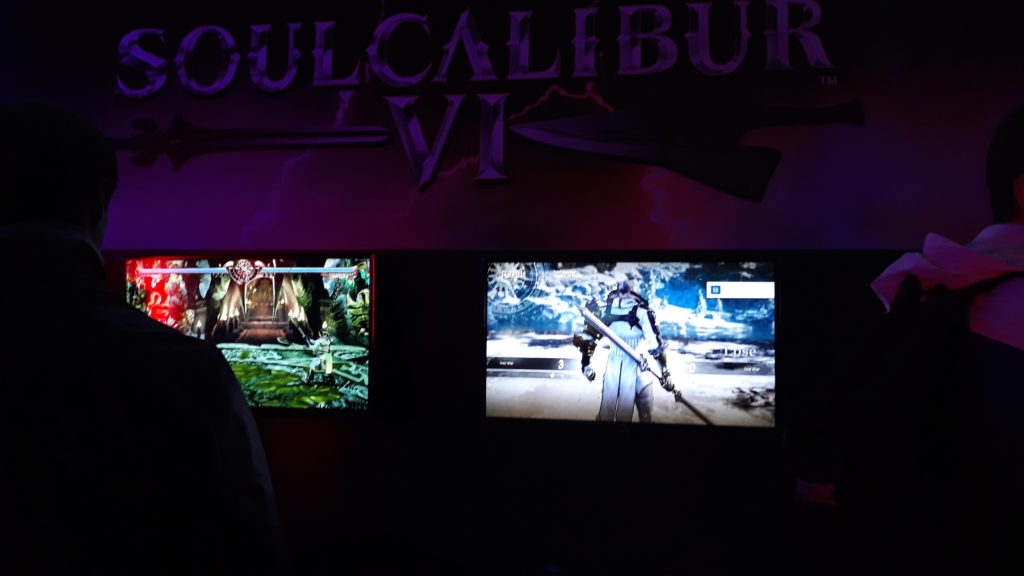 After the hype and fun I had with Jump Force, I played Soulcalibur VI with friends.
And again, unlike Blazblue, this game felt so much easier to get into.
I keep mentioning Blazblue, and it's because it was the first anime fighter I played.
The amount of combos each character has felt like too much for a newbie. Also, catching up on the story of the game takes a lot of investment. But I guess that's not surprising when the Blazblue I bought is Chronophantasma Extend.
After Soulcalibur we played Street Fighter II on the Super Nintendo.
It was pure fun. No complicated hard to hit combos. Super enjoyable with friends. I almost wish I have the Super Nintendo now.
There was also the One Piece game, World Seeker. It's anime related so I had to take a picture.
Some time later I found out that a Balkan visual novel is a thing.
I don't know about the details, I didn't end up playing it but in hindsight I probably should had done so.
In any case it was nice seeing something like that in this country. Maybe it's not all so dark for the Croatian otaku afterall.
Here you can check out the website for the visual novel.
Other than a bit of Yu-Gi-Oh and Light Yagami and L POP toys that were being sold, that was pretty much all anime related stuff I could see.
Well, at the gaming fair, at least…
Hunting for manga
I knew Zagreb was possibly the only place in this country where I could buy manga.
The entire day I was excited for Jump Force and the prospect of buying actual manga later on.
One of those things came true and I had to make the latter come true too. I knew I would have regrets otherwise.
Leaving the gaming fair area would mean you can't go back inside. I wanted to make that move around an hour before our scheduled departure time.
The friends I hanged out with didn't have reasons to leave yet. In the end, 30 minutes before the scheduled departure, I left the gaming fair area.
The store where they apparently sold manga was some 10 minutes away. If you were extremely fast, that is.
I had to do it. It was a crazy thing to do. Stupid maybe. But I had to do it.
I don't remember the last time I was walking that quickly. I reached the store some 15 minutes before departure time. That meant I only had precious few minutes in the store.
It didn't help that the store was on the third floor of the building. I had to use the moving stairs.
Finding the store, I quickly glanced from the window and saw the "comics" section. If it was somewhere it would have to be there.
I went inside. Quickly scanned through the things they had. Actual manga. In Croatia. Had no time to be shocked.
Titles included Noragami, Attack on Titan, Fairy Tail, Ansatsu Kyoushitsu, My Hero Academia.
I took the only Ansatsu Kyoushitsu volume avaliable. Volume 5. I wanted to support the author of one of my favorite anime ever.
Volume 5 is when Nagisa has his first true badass moment. No regrets.
The second manga I bought was the latest My Hero Academia volume that was available. It was volume 13. I didn't know exactly which volumes has the anime covered but I knew 13 was a close number.
It turns out volume 13 covers the final episodes of season 3.
Coming back from the store I even ran for a while. But I came 2 minutes before the scheduled time to leave.
No regrets. 100% worth it. I still can't believe I'm now a manga owner. And that it actually happened in my own country.
In the bus I opened the MHA volume and the friend next to me said "it's like anime in small". Pretty obvious but it's actually such a cute way to put it.
Conclusion
That would sum up what was overall a great day…
Until I dropped my phone.
At first it was a minor purple spot, but the phone basically started to bleed internally and by morning I knew I won't be able to use it anymore.
So if you are wondering why I haven't been active on Instagram, this is your reason.
It's also a part of why the blog hasn't been updated for a week.
The other reason is simply – university.
Tough times before a tough exam on Wednesday. And more of them next week too.
Which, ofcourse, doesn't mean I should simply stop posting. I feel bad for the inactivity.
I'll try my best to do better. Please look forward to it.