In an anime like Fruits Basket where pretty much every character is fleshed out with a memorable and emotional backstory, it's hard to pick one single character as your favorite.
However, there was a certain character who through the series, intrigued me every time she appeared. And when we got not just one, but two episodes focused on her, I knew that if I had to pick a favorite Fruits Basket character, it would be her.
I'm talking, ofcourse, about the one and only, Saki Hanajima. So what exactly makes her so special?
Obviously, the wave powers. If I'm not mistaken, Saki's powers make her the only character outside the Sohma family with some kind of supernatural aspect to them. Please forgive me if I'm wrong, cause I'm an anime-only watcher of Fruits Basket.
This fact alone makes Saki stand out. But the way her powers have been portrayed in the anime before her backstory episode tricked many people, me included. I never really thought too much about the wave powers. I kind of thought it wasn't really a serious thing. And since Saki seemed like a character interested in the occult stuff, I thought at best that it was something she learned as a hobby, perhaps?
Until THAT episode happened and I realized – it was real. Very real. And it impacted her life quite a lot.
I know what it's like to be bullied. Middle school was a dark time for me. But I still cannot imagine how hard it must have been for Saki. What she has been through, at such a young age too, is honestly horrifying. And yet when the suffering has gone too far to the point that her powers almost did something terrible, she knew it was wrong. If someone less kindhearted had those powers, who knows what they would start doing with them. Saki was given the worst possible treatment, and yet she knew that returning the favor wouldn't be the right thing to do. I'm proud of her for enduring such a tough time, and also thankful for her loving and supportive family.
The maturity of her brother, Megumi, is also incredibly admirable. His words during his prayer have been extremely powerful.
There's no way that there's not a single person out there who will care about you. So, whoever you are, please come meet her. If you're in a faraway country, take a plane. Quickly…come to Saki as soon as possible. Please…

Megumi to Saki
Thankfully, someone who cared really did enter Saki's life. Arisa and Tohru were considered weird but they didn't care, instead they seemed to embrace that.
You really are weird
Everybody says that
I loved this scene so much. Being "weird" and proud. I need a friend like Arisa and Tohru (and Saki ofcourse) in my life too.
Even if someday you three go your own separate ways, it doesn't mean anyone's being fickle, and you don't need to feel lonely. Some part of that relationship will always stay with you. I'm sure of it.

Kyoko Honda to Saki
More impactful words from Tohru's mother. This quote really makes me cherish the connections I had with people in my life. Even those that ended abruptly, with people I considered "best friends". Right now, for whatever reason, those connections ended, but at the time, they did make my life better. And they did leave an impact on my life. If one of them ever reads this it would be insanely awkward, but one of those people is the very person that got me into watching anime. So you could say they changed my life quite a lot actually.
For Saki, Tohru and Arisa showed her a different side of life. The fun, colorful side, where she is accepted the way she is. I really love the bond these three characters have.
Soooo, I was talking about what makes Saki so special, right? Well other than the way her wave powers have been portrayed, and just the entirety of her backstory, it's also her personality.
Have I mentioned she is kindhearted? Even after everything she's been through, she still occasionally feels bad for wanting friends like Tohru and Arisa to come into her life.
Saki makes every single one of her appearances memorable in some way. Whether it's her dominating everyone in poker, her getting exhausted after H U G E amounts of running, or her reminding Yuki and Kyo that Tohru must be lonely for New Year, she shines in every moment she has screentime.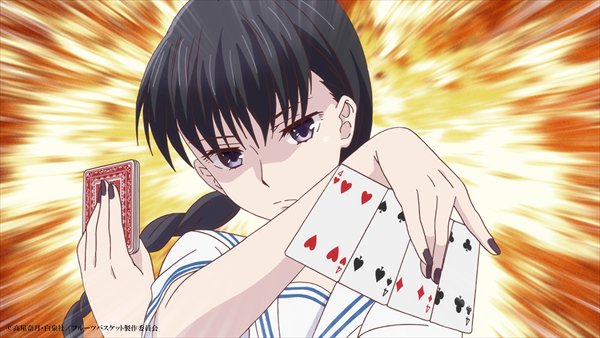 I love Saki's straightforwardness and how she won't deal with any nonsense. I love her fantastic voice actress, Satomi Sato. And finally, I love Saki's style and appearance, I certainly don't care if it's all black cause anything else would feel wrong.
And that concludes my essay on why I love Saki Hanajima. Now let me continue crying because her backstory is just that strong, and Fruits Basket has just one more episode left.