Fall and Formula 1. In a normal season, this time of the year would see races in Mexico or the USA. About a month earlier, there would be the visit to the Asian circuits. I always felt like that Asian part of the season was kinda the beginning of the end, especially Singapore due to the lights that you usually also see at the ending race in Abu Dhabi. And the realization that the ending of the season is getting closer and closer always made me more and more sad with every passing race.
2020 is not a normal year, but we still luckily have F1 racing. And we are at about the same stage of the season as we would be right now in a normal year, if you look at the number of races remaining. 5 races still to go. For some reason it felt like there would be more left. I mean we did only start less than 4 months ago.
Today Lewis Hamilton scored the 92th win of his career, officially becoming the most successful driver ever in the sport. Still isn't really sinking in – it's one of those things you will only truly realize when a few years pass and you look back.
Valtteri Bottas and Max Verstappen second and third yet again. Even when Valtteri found himself in the lead, he couldn't stay there till the end. Not much to say really, a disappointing outcome for him. Verstappen third after a bit of a different lap 1 than usual… I wouldn't really say anyone is particularly at fault in the accident between him and Perez, but a very good comeback to P7 from the latter. I would prefer Nico Hulkenberg in the second Red Bull seat, but if Perez keeps performing as he is recently, it's hard to say he wouldn't deserve to be put in that seat.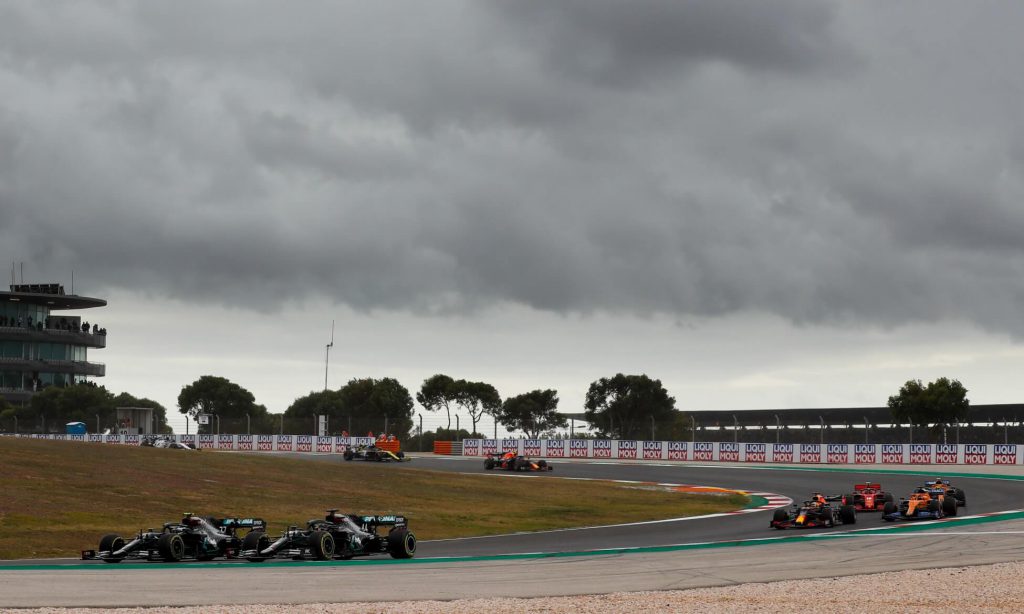 Leclerc in fourth was a fine performance even if we haven't actually seen much of him today. Just staying within the same lap as the top 3 felt like a big success, even if it really shouldn't be, especially for Ferrari.
Yet again, Pierre Gasly was impressive. I can honestly say he is at least among the top 5 best performing drivers this year. His redemption, it's the glow up I aspire to have. What an impressive season and inspiring story.
The start of the race had shades of Monza with drivers that you wouldn't expect to see at the top all of a sudden finding themselves up there. And in a way it actually ended like Monza because yet again it's Pierre Gasly just ahead of Carlos Sainz. Sainz actually pulling moves on the two Mercedes drivers to take the lead, without them actually having any technical issues was a beautiful and refreshing sight. It was never gonna last too long although I was kind of hoping for something seeing how crazy things have started and there was some potential for rain. In any case, good performance by Sainz.
Not the most spectacular or memorable race for Renault. Good for Ocon I guess, to finish ahead of Ricciardo. Vettel got the final point but I was hoping Kimi could grab it after that brilliant start. His start really did look a bit like lap 1 of a race on rFactor or an F1 game.
Another day that wasn't particularly strong for Alex Albon. I really do like him, but it's hard to justify keeping him in the Red Bull. Perhaps the best thing for him now would be a return to Alpha Tauri, doing a brilliant season similar to Gasly, and then if possible leaving for a non Red Bull team. That is also what I think Gasly should do.
Regarding the rest of the drivers, not much to comment on. Stroll could've easily gone up the inside of Norris to avoid that accident. Russell was even running in P7 for a while, giving room for some thoughts about him possibly scoring a point… Which obviously never happened but still, P14 is a good result for the car he is in.
Portimao was another fine addition to the F1 calendar. What I really love about this season is the "exploration" of new/old circuits and it continues next week at Imola with an experimental GP weekend format. I can see less practice being a good thing, with the downside being a day less of track action to watch. Hope it pays off with an exciting qualifying and race.