Time for a new opening breakdown! The last one I did was for Kaguya-sama: Love is War, which was now 2 months ago. And in that case it was actually a breakdown of the ending sequence, but you get the point (I hope).
Studio Bones has really shown that they know how to make their openings and endings look fantastic. Especially with those 2 special openings at the start of Bungou Stray Dogs season 2.
Both of them just looked so classy, so fitting for the mood. Not to mention the song that was a true banger. I still keep coming back to those openings because I simply love them so much.
With season 3 came another few backstory episodes and with that another special opening sequence, mostly featuring Chuuya and Dazai.
I did love that sequence as well, but it hasn't quite reached those highs of the special openings from season 2. I could actually say the similar thing for the episodes itself.
In this post I won't talk about the special opening sequence for the backstory but the "regular" one that made its debut in episode 4.
Once again, its classy and impressive looking.
The sequence
Around half of the sequence is made of introducing the most important characters one by one. And while each of those parts looks great in its own way, there is not much I can comment on them other than saying that "character x is standing", and so on and so on.
I do have to say I especially love the colors of the Chuuya visual. And the sky on Kunikida's part. I'm a simple man, you can always impress me with some nice-looking dusk.
Could this potentially foreshadow some internal Port Mafia fighting between Chuuya and Akutagawa?
I could be just nitpicking but notice how Yosano is the only character who walks across the scene in one of these shots…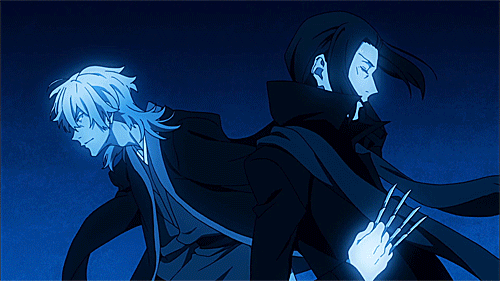 Are Mori and Fukuzawa finally going to have a proper fight? I would actually assume not. Seeing how strong a certain upcoming villain is, I can see another alliance between Port Mafia and the Armed Detective Agency likely.
A cat jumps towards the camera and a new character is shown. I don't know much about this but I do wonder about the cats in Bungou Stray Dogs as they were seen in the previous opening sequences as well.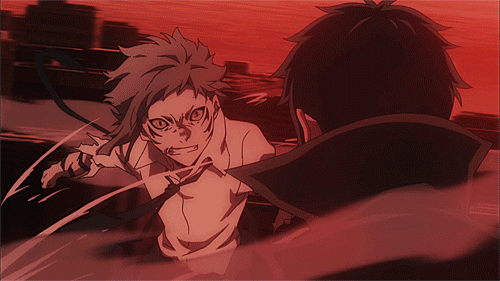 Will Atsushi and Akutagawa fight each other yet again? It happened in each of the seasons so far and the movie, hasn't it? But there is Dazai and Chuuya in this shot as well so perhaps the 4 of them will be in combat.
Sakaguchi Ango is seen using an ability. I already can't wait to see what's it going to be. And considering how many organizations Ango has ties with, I'm not sure if he will fight with or against our protagonists.
Looks like The Guild will return. I'm sure Fitzgerald is looking for revenge on the two that we see in the next shot…
Mori has reasons to worry because the Port Mafia has a dangerous threat on the way.
I'm talking about Fyodor ofcourse. He is one of the best villains I've seen recently. Quite simply, he is badass. He is incredibly strong, meaning he is a huge threat to both the Armed Detective Agency and Port Mafia.
On top of all that, we still don't know how his ability really works, which makes him a mysterious character as well. So much to look forward to in season 3 thanks to Fyodor.
Ending the sequence we see pretty much all of the most important characters… Perhaps uniting against Fyodor?
Conclusion
All in all, a sequence that does its job of hyping you up well.
My main curious points are the cat and Sakaguchi Ango. What kind of role will he play? Will it be positive or negative?
And again – Fyodor. What even is he? How can anyone be so intelligent and strong? Is there any way to beat him?
Songwise and visually I do prefer the first special opening from season 2. But that one has set the standards quite high it has to be said.
In terms of the ending sequence, it features a lot of flashbacks, reused scenes from the earlier seasons and movie. And a lot of them are of characters crying, both from Port Mafia and the Armed Agency. Will things turn out that badly?
Also, Dazai is keeping Odasaku in his mind, looking thoughtful on what I assume is his grave. Odasaku got his own crying moment in the ending sequence as well.
This does lead me to think that Ango will be on the negative side this season afterall but let's wait and see.
Over to you, what do you think of the new Bungou Stray Dogs opening? Please feel free to discuss it in the comments!
Affiliate links
You can find the Bungou Stray Dogs light novels and manga on Bookdepository.
Check out the Bungou Stray Dogs merchandise on Amazon.