Usually when I would make a post of this type, I would break down both the opening and ending sequence or simply the opening alone.
I still really like Kaguya-sama's opening sequence, it has a smooth, unique song and fancy visuals. But I prefer the ending sequence, and I feel like it has more material to talk about.
And I'm not talking about Chika Fujiwara's special ending sequence. I'm talking about the cute and dreamy (quite literally) "regular" ending sequence.
The ending
The song is called Sentimental Crisis, and is performed by halca. I knew she had a familiar voice from somewhere, and it turns out she also performed the Wotaku ni Koi wa Muzukashii ending song. Great job with both of the songs.
Starting off the sequence, we have our main character, Kaguya Shinomiya, taking a nap in the student council room.
We enter her dream, which starts with her and Miyuki Shirogane standing in space with the stars surrounding them.
What looks like younger Kaguya seems to be sad about something. She seems lonely. I believe we then fast forward to her current self and its very much the same.
But at least best girl, Ai Hayasaka is there for her.
Best girls travel somewhere in a zeppelin. It is a zeppelin, right? If it was a normal plane, this sentence never happened.
Kaguya has a nice picture with all the student council members.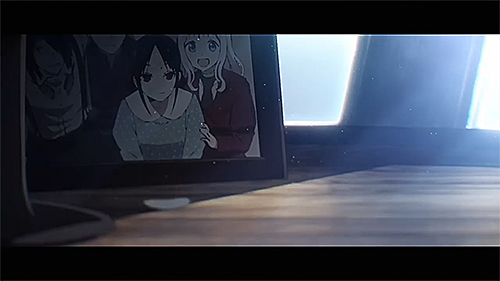 Best girl Hayasaka gets her own closer shot. In the last few days she has grown to become my waifu of the season. You may have even noticed if you follow me on twitter…
Now Kaguya seems to be reflecting as next to her we see Hayasaka, followed by Chika and Ishigami. But one key figure from the student council is missing…
Something is really bothering Kaguya and I don't like seeing her this way.
Next up, a team led by Miyuki Shirogane, with Yuu Ishigami and Chika Fujiwara.
They are fighting against the team of best girls, Kaguya Shinomiya and Ai Hayasaka, in a dangerous game involving guns.
Kaguya looks quite handy with that gun and her movements.
This is a transition to Kaguya falling out of the zeppelin with her angel wings.
But what could leave her with such a surprised expression? There is only really one person I could think of….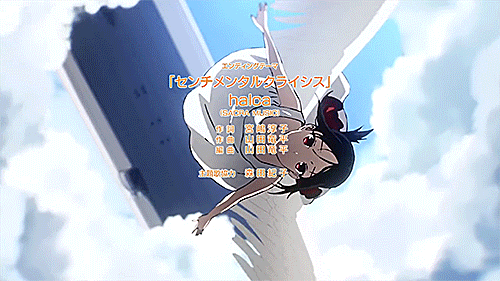 Its ofcourse the president, Miyuki Shirogane who takes her hand and saves her.
In contrast to her mood from earlier, Kaguya looks delighted as she sails through the sky with her love interest…
…as from another plane, Chika Fujiwara waves them and Yuu Ishigami keeps things lowkey as always.
Chika reminds me so much of Nadeshiko Kagamihara in this gif.
All of this makes Kaguya overjoyed…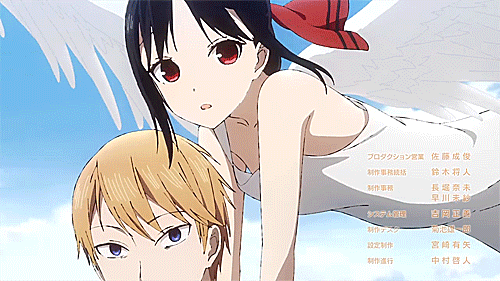 …but it was all just a dream. Even so, Kaguya doesn't seem to mind, since the person that wakes her up is Shirogane.
"O kawaii koto".
Conclusion
A beautiful sequence, both songwise and visually. It improves my mood every time I watch it.
It seems to focus on Kaguya Shinomiya's internal feelings that she refuses to let out to the world. She just wants to be around her friends, and most importantly, Miyuki Shirogane.
If you look at my Winter 2019 preview post, for which I've glanced through the synopsis and PVs of most anime on offer, I didn't found Kaguya-sama: Love is War interesting enough to give it a try.
That was a huge mistake, and this is now probably my favorite Winter 2019 series, along with The Promised Neverland.
If it wasn't for Chika Fujiwara's dance and the many screenshots, hype and memes that it has provided for this anime, I'm not sure if I would check it out.
I'm very happy I did. I came because of Chika, but stayed for a very fun romcom take, and I even got a new waifu out of it.
Here is a bonus gif because best girl deserves it:
Let me know in the comments what are your thoughts on Kaguya-sama: Love is War! Is it one of your favorite anime of the season?