How will Emma and Ray solve the difficult situation they found themselves in at the end of Volume 7?
Will their unnamed guide offer some help? Or will they have to find the solution themselves?
Emma and Ray in action
It turned out being the latter.
They had to find the solution themselves and it turned out successful – they realized that the demons die when they are hit in their eye. Their unnamed guide, however, is still convinced Emma and Ray are going to die soon. He will make that happen himself even if the demons won't be able to. He even decided which of the kids he will let die. It turned out to be Emma, who a bit later on tried to make him open up to her and Ray, which he refused to do.
The unnamed guide has been suffering. It must have been hard. But it doesn't seem that the children can do anything to change his attitude, so its better to just give up on that for now. I'm sure some things we found out later on will change his attitude anyway.
Emma got… Isekai'd?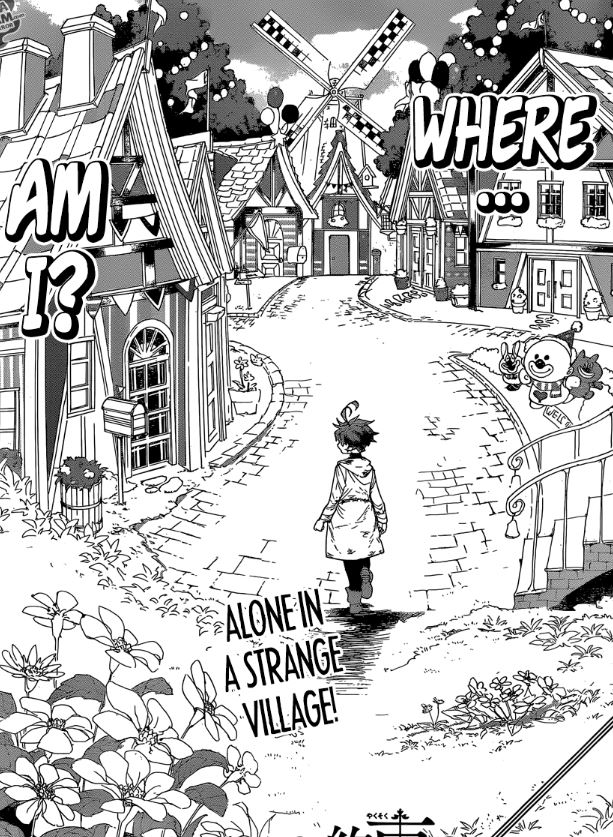 Nah she didn't. But she had one of those "Where am I?" moments once she woke up in a completely different surrounding than where she just was. The last thing she remembered before that was Ray's voice while being taken away by… something.
This was real hype and excitement. Emma on her own not knowing where she is or why. It turns out she was taken to A08-63. How convenient. It's the next Minerva checkpoint. Surely there is gonna be something good right? But first she needs to find out what actually is this place. Could it possibly even be the human side of the world? Or a new human farm? These were my guesses while reading.
Note how it said "Use your pen" on her left hand. I kind of doubt Emma was the one writing that. But who did it then?
Anyway what A08-63, or Goldy Pond turned out to be is a secret human garden. A secret playground for the demons where they hunt the children every three days.
Hunter x Hunter vibes
I'm starting to get some Hunter x Hunter vibes here. Which can only be a good thing.
The way they are trying to reach William Minerva – it's kind of like Gon and Killua trying to reach Ging, isn't it? But also, Emma, Ray, Killua and Gon are roughly the same age. And at their age they are already using weapons. During the hunter exam, Gon was aiming to steal the number plate of a much stronger opponent, Hisoka, and he succeeded. Similarly, Emma was targeting the eye of a much stronger opponent, a demon, and she was successful too.
And speaking of Hisoka from Hunter x Hunter, another thing reminding me of HxH was the demon that saw Emma as a chance for some fun. He decided to delay killing her, cause giving her more time would make her even sweeter. Doesn't that remind you of a certain character that was waiting for Gon and Killua to grow before getting more serious with them?
The final thing that adds to all the Hunter x Hunter vibes is more related to the anime, but Killua and Ray have the same voice actor ofcourse. Which feels fitting.
Goldy Pond
Back to the manga stuff. Emma survived the demon hunt, but some of the new kids she met didn't. The first person she talked to since coming to Goldy Pond, Violet, really reminded me of Norman at first.
I did not expect to see something like this in The Promised Neverland, but Violet is actually a "trap". Her group of friends are from the high quality farm Grand Valley. They know the truth and they want to do everything they can to close the demon playground Goldy Pond. But how did they find out the truth?
Remember how I said certain things will change the unnamed guide's attitude? Well this is what I meant by that. They found out the truth via Lucas. Yeah, that Lucas from the unnamed man's traumas. He is dead for everyone else except Violet's group of friends. And this is where Emma found out the clue related to William Minerva. Lucas found a door with his symbol, and it can only be opened with the pen.
What are they going to find behind those doors that Lucas has wanted to open for years?
Conclusion
I think that was my favorite The Promised Neverland Volume from the ones I covered. Loads of intriguing and exciting stuff. And it can only get better.
Who or what brought Emma to Goldy Pond? Similarly, who or what wrote on her hand that she should use the pen? What is behind those doors? So many things I'm dying to know.
Have you read Volume 8 of The Promised Neverland? If so, feel free to discuss it in the comments! 😉
Here are my previous The Promised Neverland Volume reviews if you are interested!
Affiliate links
The Promised Neverland Volume 8 and more is on Bookdepository.
For other The Promised Neverland merchandise, you can search for Amazon.