When I came up with the idea for this series of posts, I thought I will pick 5 best moments each time. It was hard to pick the moments since the beginning, but by the third installment it became impossible.
In the third part I "sneaked in" an extra moment, making it 6. But for this final part, I'm just gonna go all out, no matter how long the post will be. Each episode has several different moments worth talking about. So leaving things out just to make it 5 overall for all 6 episodes makes no sense.
So with that out of the way, let's begin! For the final time.
*cries*
Shocking confession – Episode 20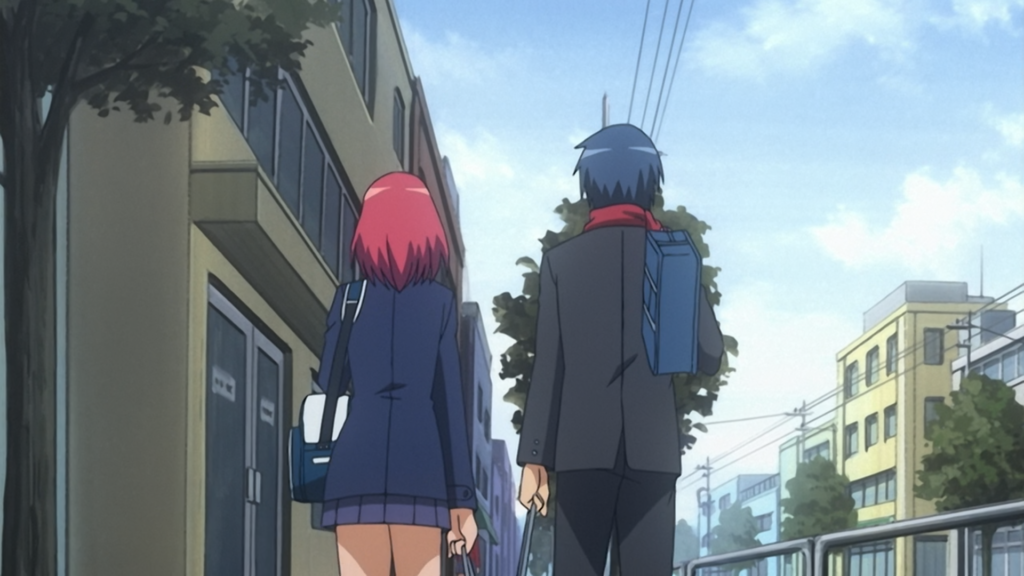 As Christmas ended, Ryuuji had to move forward. Taiga believed in him and Minori. She has realized what Minori is doing – not acting on her feelings in order to not hurt Taiga.
And so, the only way to change Minori's mind is if Taiga changed and showed she doesn't need Ryuuji anymore.
Minori is back to her energetic self around everyone. Taiga continues trying to set up scenarios for Ryuuji and Minori. But Minori let out a few signs of frustration about it.
Ryuuji notices her hair has changed. She says she is surprised he noticed, to which he replies "Its because I always look at you".
"What a shocking confession", she says. Well, far from it.
The ski trip is approaching where Ryuuji's aim is finding out Minori's "true feelings".
It's no use, Taiga – Episode 21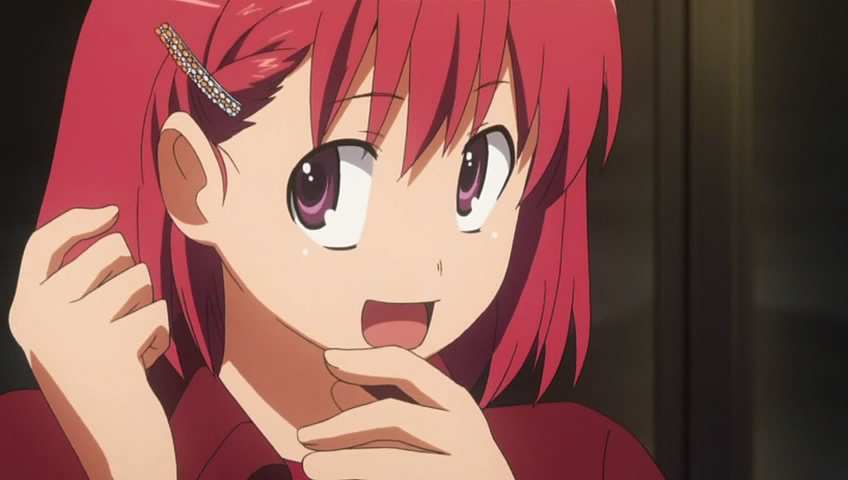 Minori is ignoring any of Ryuuji's attempts to convey his feelings to her. And when she put on the hairclip that he was supposed to give her on Christmas Eve, it served as the ultimate reminder of that.
Only due to Taiga was this possible. If Ryuuji tried to give it to her, she wouldn't accept.
Hit with this realization, Ryuuji goes to sleep…
No one saw or heard anything – Episode 21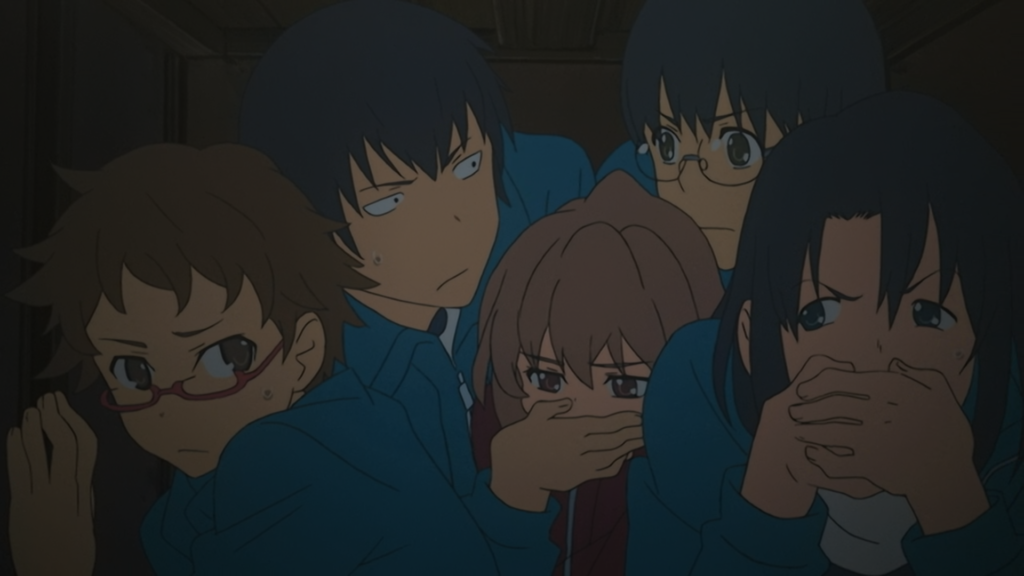 …but Haruta, Noto and Kitamura noticed his bad mood. They were surprised to hear of Minori's rejection, and Kitamura suggested they go ask her about it.
They enter the girls room, but hide when Taiga enters. Ryuuji takes Taiga with them when he heard the other girls coming in.
It was actually a great move to hide Taiga. Ami was annoyed with Minori, and they ended up in a fight which, as Kitamura said, they weren't supposed to witness.
I can't stop loving Ryuuji – Episode 21
This fight continued the next day, when Minori hit Ami with the sled. You decide if it was on purpose or not. Ami certainly believed it was.
As things got physical between them, Minori's hair clip fell, and Taiga felt the need to go bring it back.
She fell in the snow and was left unconscious. In the final bit of daylight left, Ryuuji, along with Minori and Kitamura went back to search her. Ryuuji found her thanks to the reflection of the hair clip.
Just think about this for a second. If it wasn't for that hair clip, the worst possible thing could have happened to Taiga. Maybe Ryuuji wasn't able to give it to the person he first intended to. Maybe it served as a reminder that that person won't accept his feelings towards her.
But it also ended up serving as the crucial thing to help save Taiga.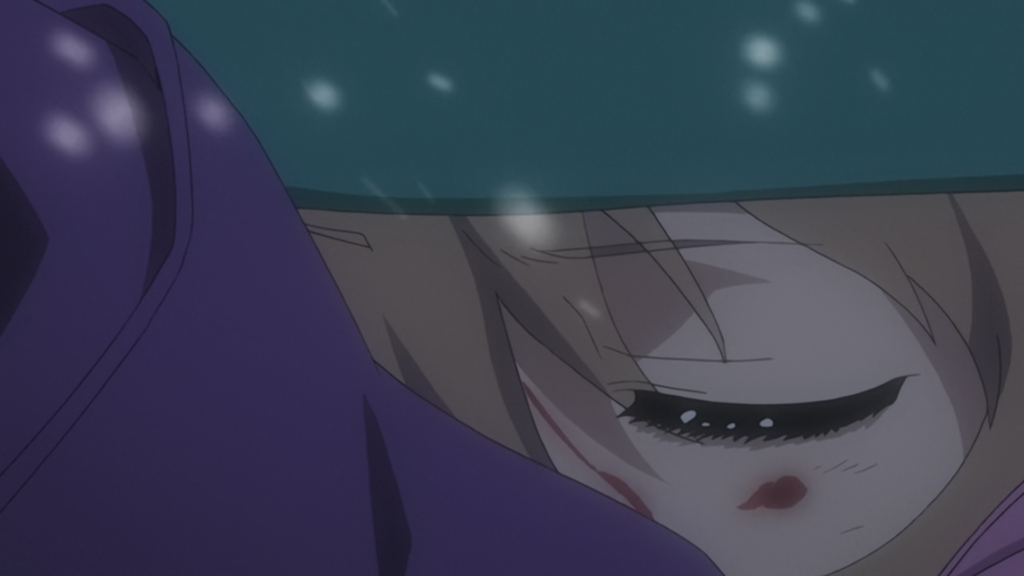 Ryuuji was the one who carried Taiga back. She mistakenly believed it was Kitamura, which resulted in a bittersweet confession of love.
Bitter because Taiga is blaming herself for her feelings. She is trying to conceal her feelings in order to not hurt Minori, and Minori is doing the same thing for her.
This is a major moment, and one that will always be among my favorite confessions in anime. Indirect ones at least. Ryuuji has started to better understand his feelings. Taiga has as well, and Ryuuji has now finally heard it from the person herself.
Being with Taiga is the best – Episode 22
Taiga was away from school to recover from the accident. According to her, she was away for a long time cause she simply wanted to skip school.
Clearly Ryuuji missed her company. And when he saw her for the first time since the accident, he was very nervous and just wanted her to stay as long as possible.
He even ended up in tears, thinking that "being with Taiga is the best".
This moment always warms my heart. Just seeing Ryuuji finally being honest with himself felt so satisfying and rewarding. You never truly value what you have until you lose it, and Taiga felt that on Christmas Eve. Now Ryuuji felt that in the time when Taiga was absent.
Kitamura carried you – Episode 22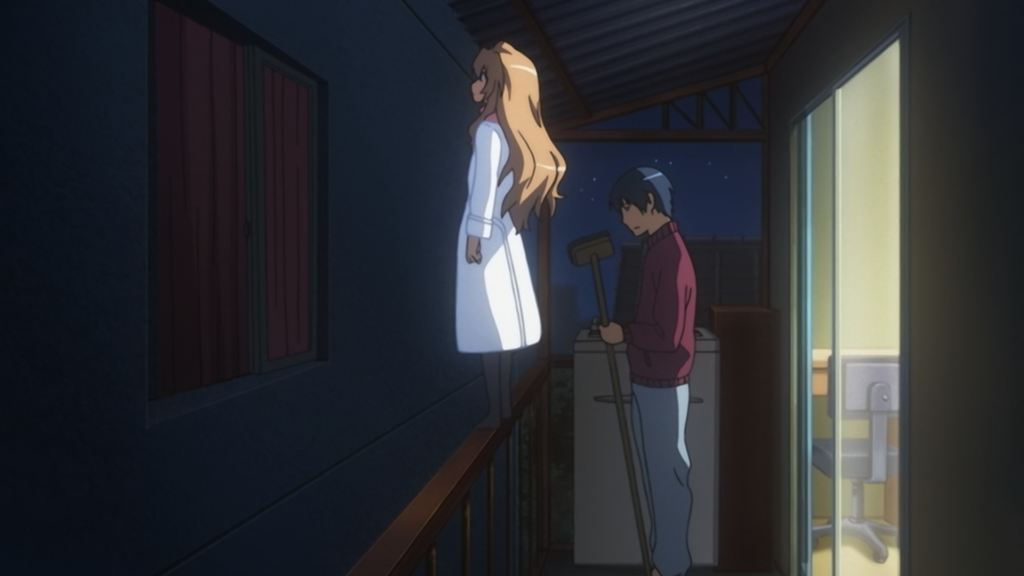 But the episode ended with lies. Taiga wanted to pretend she never said anything. Ryuuji went along with it, saying that Kitamura carried her and she never said a word.
It was a lie none of them actually wanted to say. Taiga did it for Minori, Ryuuji did it for Taiga. But Ryuuji seems to have accepted things won't work out with Minori. It seems he is realizing that he actually loves Taiga. He was clearly unhappy to continue going with the lie, but he sacrificed himself because that's what Taiga wanted.
Future plans – Episode 23
Neither Ryuuji nor Taiga have turned in their career assessments yet. Ryuuji doesn't want to go to college and wants to find a job, which is against his mother's wishes. Taiga hasn't given her future much thought, and believes she won't have to work because her family is rich.
She also wants to "fall in love normally". She wanted to have a "normal life" and she wanted to be a "normal girl" which annoyed Ryuuji and he rightly asked her what does she mean by "normal".
It's all right! – Episode 23
Later on, Yasuko passed out due to overworking herself. A visibly unhappy Ryuuji went out to buy her some food, but he forgot all of the stuff he would usually take when going to a store. Which made me wonder if he actually planned to go buy something or his only plan was to go see Yasuko's boss.
In any case, Taiga was worried for him, as he blamed himself for what happened to Yasuko. It was now Taiga's turn to encourage and cheer up Ryuuji in his bad moment.
Everyone loves you – Episode 23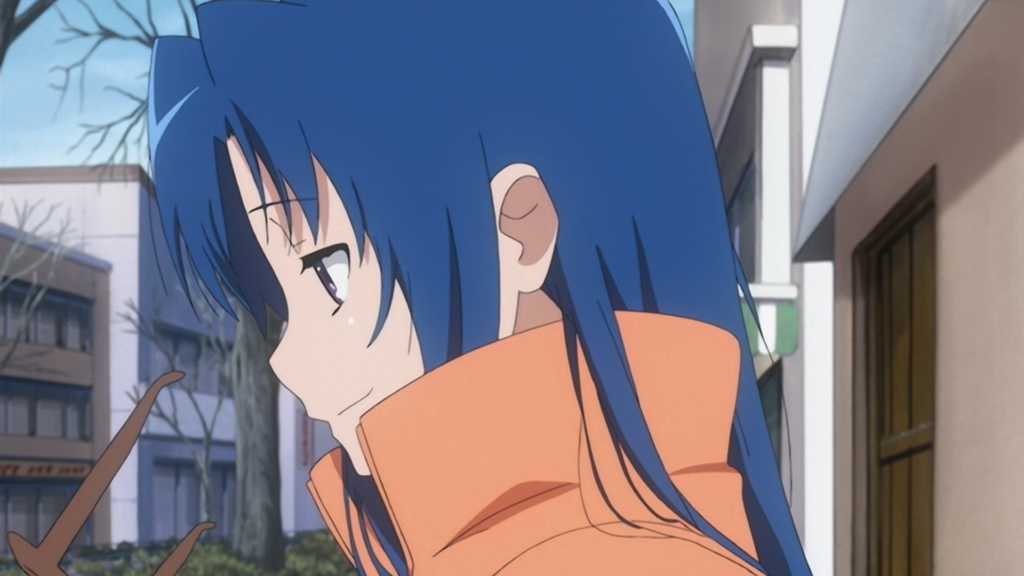 Ami did some great advertising work for the stand Ryuuji and Taiga worked on. As she left, Ryuuji commented how she likes to run away, as earlier in the episode he found out Ami is not sure about staying in their school.
"You'll dissapoint everyone if you leave. Everyone adores you", he told her.
Encouraging words, but ones that Ami didn't wanted to hear. She would be happy if just one person cared. That one person being none other than Ryuuji.
Chocolates for everyone – Episode 23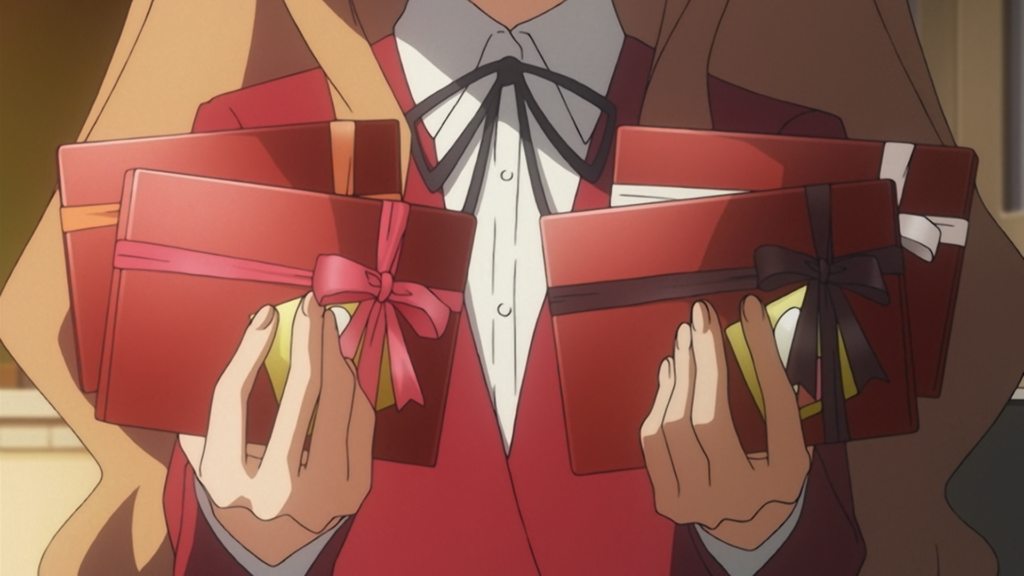 Taiga prepared chocolates for her group of friends, and she gathered everyone to give them away. What could possibly go wrong?
She gave her most worked on chocolate to Kitamura, who carried her from the snow.
Ooh, wait what?
That is not what Minori saw that day. She knew Ryuuji carried Taiga back.
Shock. Dissapointment. Anger. All in one expression. Imagine concealing your feelings on the person you like because you want your best friend to be happy with that same person you like.
And then imagine that person you like, doing that same thing – concealing his feelings, even if you know for sure that this person has feelings for your best friend.
It's quite a messy situation and Minori couldn't take it anymore.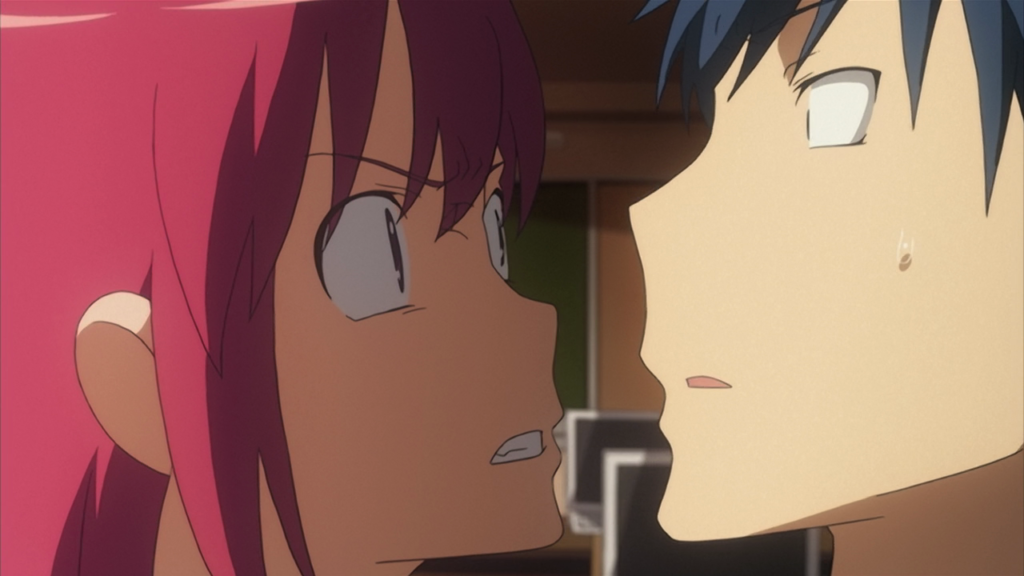 Everything that Taiga and Ryuuji were hiding came out. Never has any scene in Toradora so far been this intense.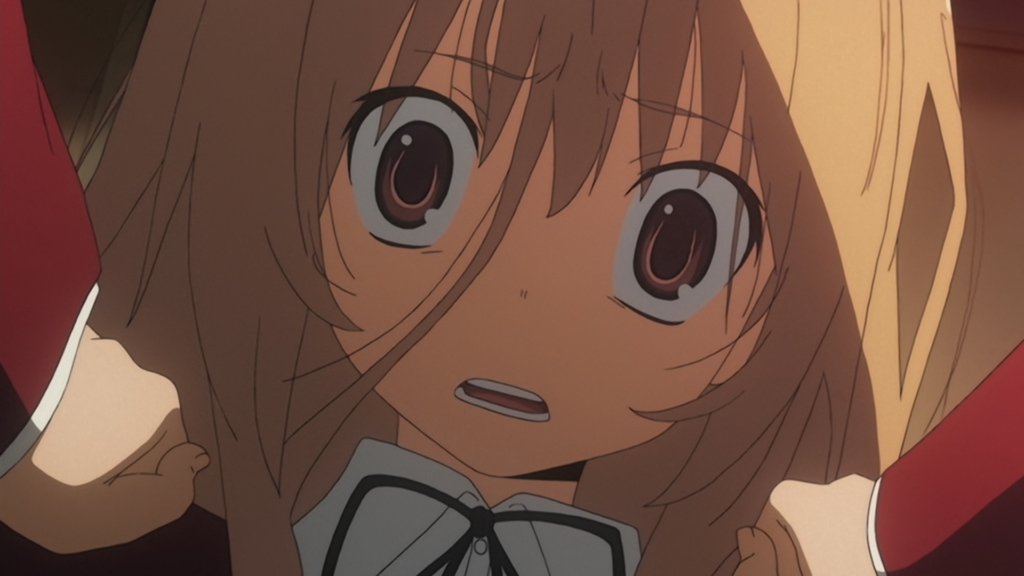 No more hiding. No more running away. It's finally the time to face your feelings and do what you feel is right. Ryuuji had the choice to go after Taiga or leave everything as it was…
Running in the halls – Episode 24
Ofcourse he decided to go after Taiga. He went on a chase with Minori.
Minori tripped while running and she revealed that those UFOs they talked about before were actually symbolizing her willpower.
What got me was when she gave Ryuuji her "giant goodbye" and encouraged him to go to Taiga. As he left she started crying. I was very much the same way. I noticed how a lot of Minori related scenes have made me cry during this rewatch which is interesting because I consider Taiga and Ryuuji to be my favorite characters.
Confession attempt – Episode 24
If Taiga's words when Ryuuji carried her from the cliff were my favorite indirect confession in anime, then this is probably my favorite actual confession. Or attempt at least.
Finally Taiga let her true feelings out. Everything about this scene is cuteness overload, from Taiga misunderstanding Ryuuji's intentions and encouraging him not to look down on life, to her jumping in the water right when he was about to confess his love.
All this in the snow making the moment even more special. But things can't ever go without the interruption of the phone. Damn you Kitamura!
Say it – Episode 24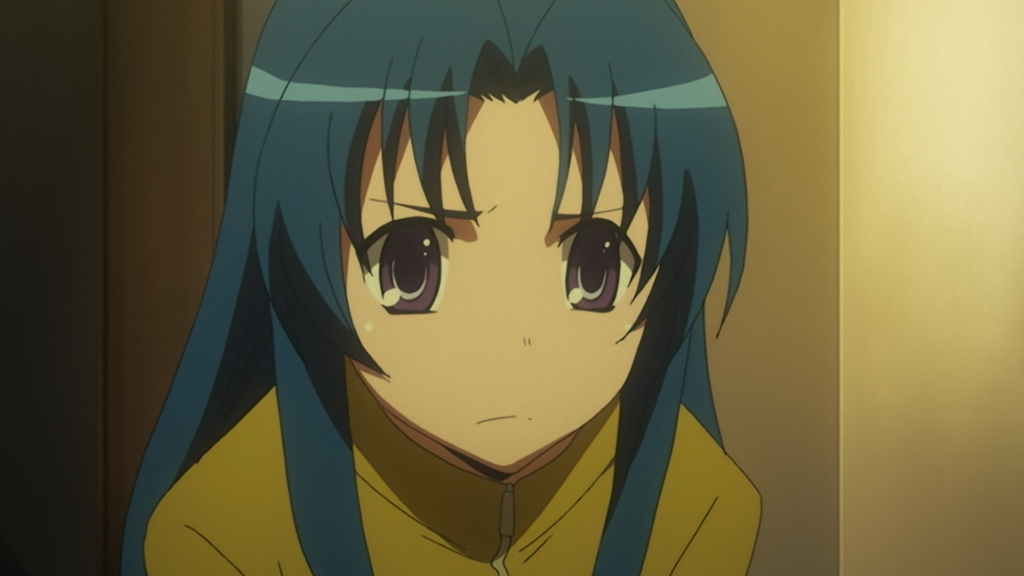 It's Ami who took Ryuuji and Taiga in after they more or less ran away from home.
And she just wanted the final confirmation. She wanted to be 100% certain that things really won't happen with Ryuuji and that he loves Taiga.
She wanted to hear it from the man himself. And that's what she got. But I doubt it felt too shocking for her to hear that.
Friend goals – Episode 24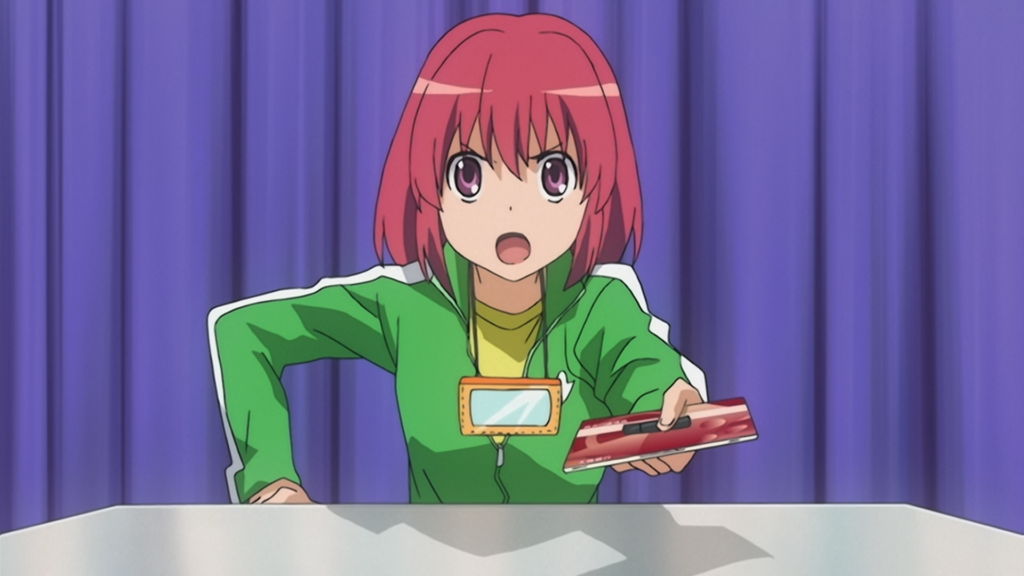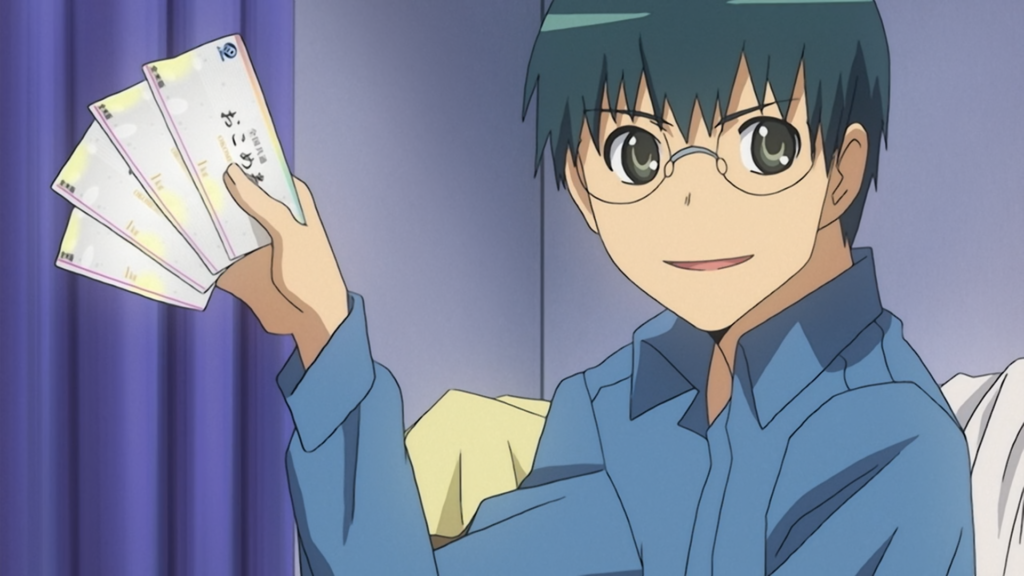 Can you imagine any better friends than these?
Minori has worked so much for her dream university. And she was ready to give all that away for her two crazy friends with dreams of eloping. She refused to act on her feelings towards Ryuuji and now this? Is there actually anything that she would not sacrifice for her friends?
When she told them she doesn't feel their actions are correct but she has no right to object them if that's what they wanted, she felt like a mother figure to both of them.
Ami offered them keys to her beach house. I would never imagine something like this from the Ami we saw at the start of the anime. Amazing character growth.
And then there is Kitamura with coupons. Well, any help is appreciated but he has kinda been outdone in kindness this time.
Families are amazing – Episode 25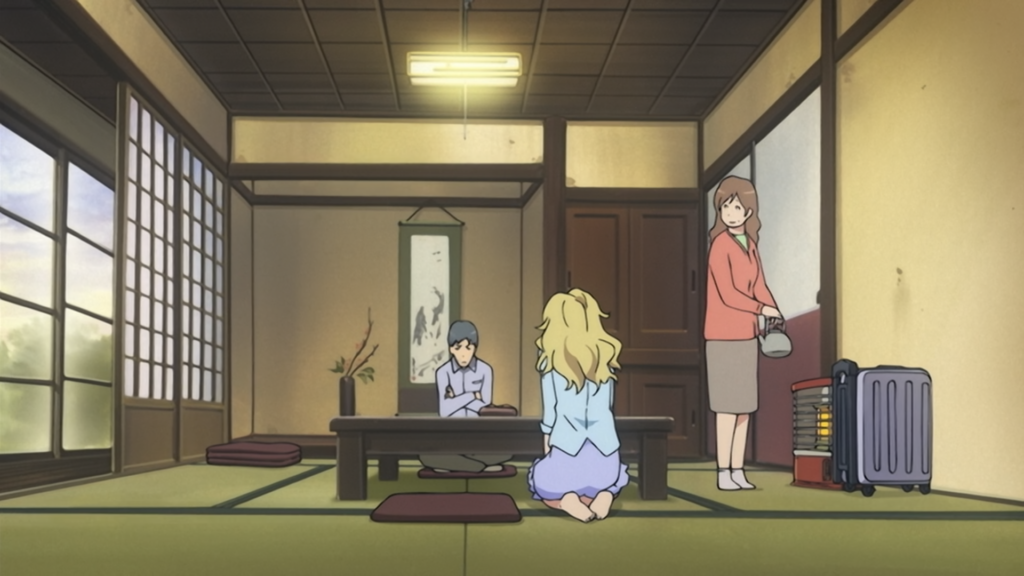 Ryuuji's issues with Yasuko were solved in a good way.
Yasuko wasn't relying on Ryuuji enough. She wanted to take all the hardships herself.
Ryuuji wants them to help and rely on each other in need – he hated seeing Yasuko overwork herself for his sake.
I felt like what Ryuuji said to her about forcing her failures on him was too harsh. But I'm glad everything worked out in the end.
The first thing Yasuko's parents told her when they saw her for the first time in years was that she raised Ryuuji well.
Just think about it. Everyone told her she should get an abortion, but Yasuko left home and raised Ryuuji as a single mother. Even if she "failed in life" and "couldn't do what she wanted", she did her role as a mother exceptionally well.
Once more – Episode 25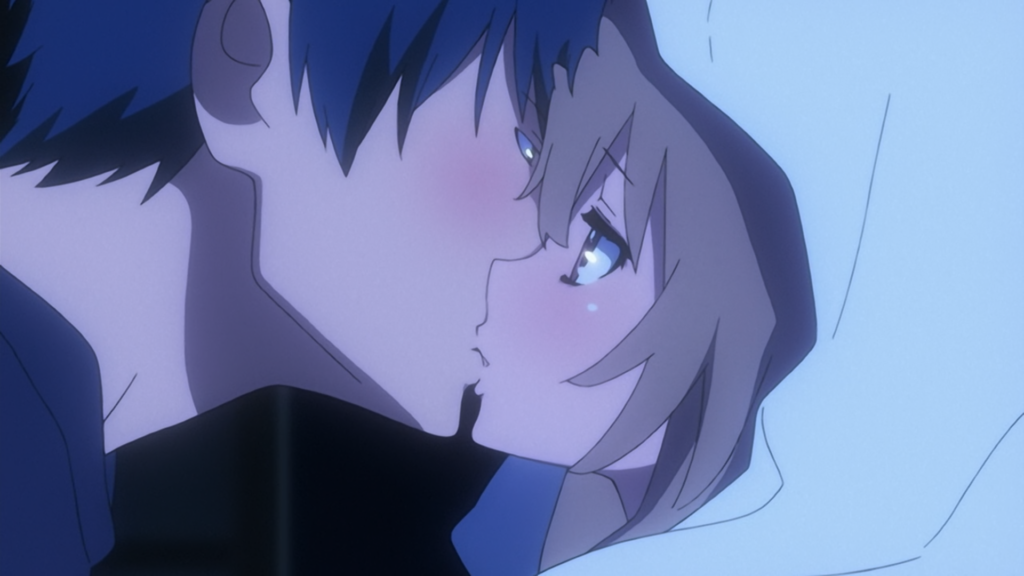 Finally.
Finally.
I don't really know what to say. Best kiss scene in anime ever. I'm naming too many Toradora scenes as "best ones ever" but I can't help myself when I love this anime so much.
It was long overdue. And I couldn't imagine it in any other way.
Class picture – Episode 25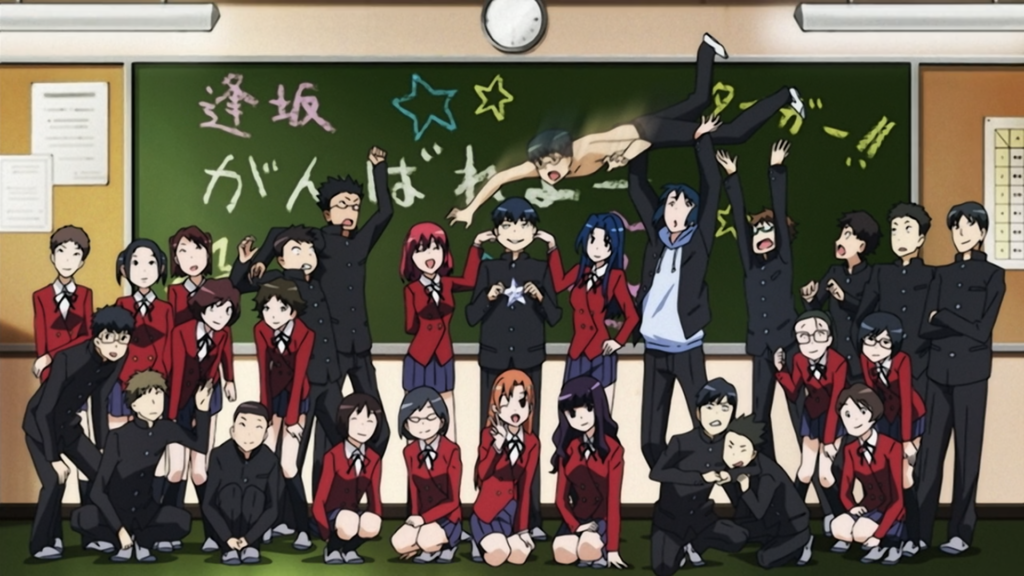 Ahh the class picture. Quite fitting for Kitamura to end up with a pose like that. Kihara looking cute. And kind of unfair to Ryuuji to see him forced into a smile like that but at least he ended up better than those guys at the bottom right corner.
And he is holding Taiga's star. Beautiful touch to have them bring the star for the photo. And beautiful to see how the class grew attached to Taiga through the series.
Ending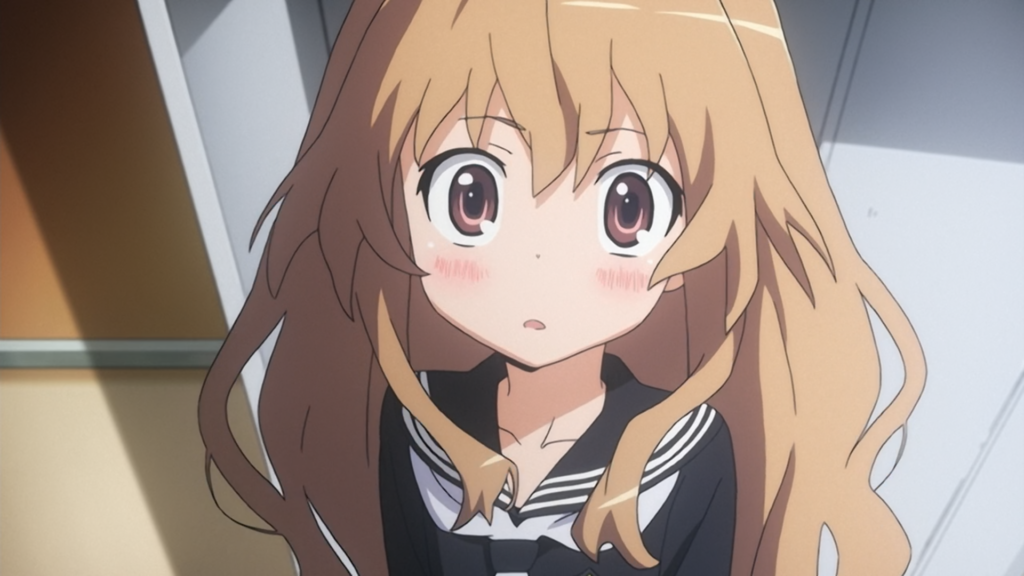 And we reach the end and I'm in tears once again.
Many people have issues with this ending. Ryuuji and Taiga finally accept their feelings and experience their happiness, until Taiga decides to just… leave.
I totaly understand this could surprise people. But when you think of it in the context of the anime and its messages, it makes perfect sense.
One of the messages is the strength of family bonds. Ryuuji wanted acceptance for their marriage from both of their families. Taiga wants the same.
But there is one more thing: through the series she has depended too much on Ryuuji, which she realized in episode 19. If she wants to grow as a person she has to become more independent, and solving her family problems alone gives her the chance to do that.
Ryuuji is what made her want to change. She wants to become better for him. She has been running away from her problems the entire time, but its time to change that.
It's been beautiful to experience all of this again, this time (more or less) day by day with more time to process everything that is happening.
Now it's hello to sadness once again. No more Toradora for another year. But it really makes December much more special. Every day I was looking forward to the episode and making these posts was huge fun.
It's the first series of posts that I've started and finished. Hope you enjoyed following it.
And with that I'm finishing my last post of the year and my longest one ever at the same time.
Please let me know your thoughts on the final parts of Toradora! And check out the first three parts of Toradora December if you missed out on any of them!
Toradora December #1 – Episodes 1 – 6
Toradora December #2 – Episodes 7 – 13